Summer Squash Strata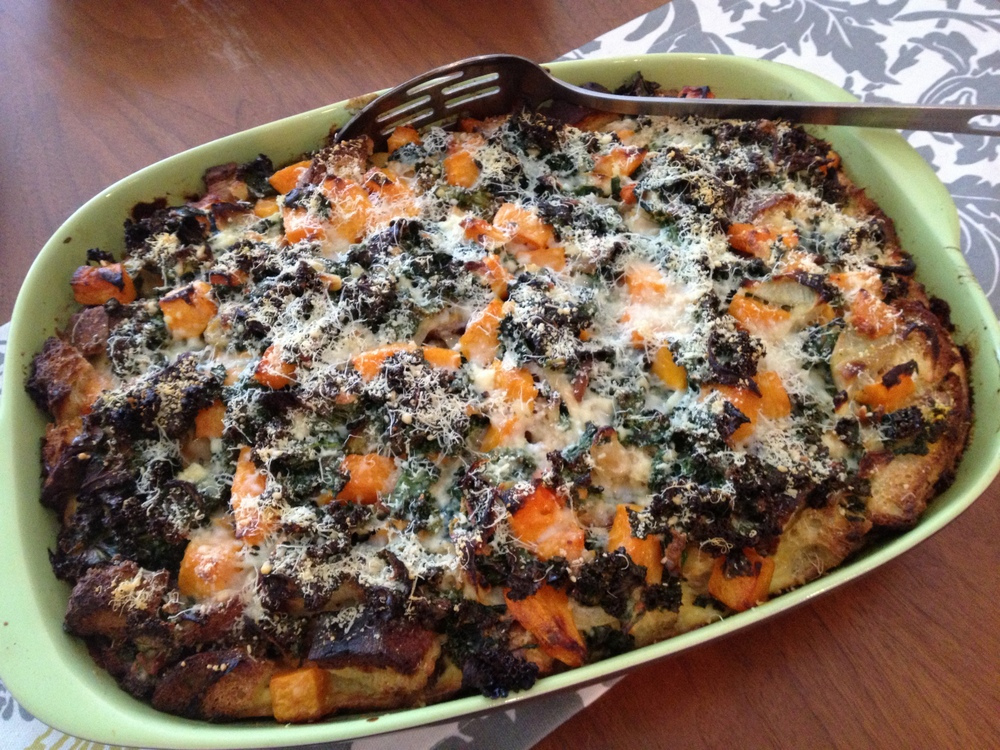 This lasagna-like dish can be made with any of your summer squashes and makes a great addition to any 4th of July party.  From the cookbook "Simply Organic".  Serves 12.

Ingredients:
2 Tbsp extra virgin olive oil
2 medium zucchini or yellow squash, or one of each, thinly sliced
1 red onion, thinly sliced
2 garlic cloves, minced
12 large eggs
2 cups whole milk
½ cup chopped fresh basil
2 Tbsp chopped fresh oregano
1 cup unbleached all purpose flour
¾ tsp salt
¼ tsp black pepper
1 loaf challah, brioche, or sweet Italian bread (about 1 lb), torn into bite size pieces
8 oz soft goat cheese
½ cup sliced pitted green olives
½ cup grated Asiago or Parmesan cheese
Procedure:
Preheat oven to 350º F. Lightly oil a 13×9 inch baking dish.
Heat the olive oil in a large skillet over medium-high heat. Add the zucchini or yellow squash and onion, and cook for 4 minutes, or until slightly softened.
Remove from heat and stir in the garlic. Drain off any liquid. Set aside to cool to room temperature.
In a large bowl, whisk together, the eggs, milk, basil, and oregano. Gradually whisk in the flour, salt and pepper.
Spread out the bread in the bottom of the prepared baking dish. Top with half of the zucchini mixture. Scatter half the goat cheese and olives over the vegetables. Pour the egg mixture over all. Top with remaining vegetables, goat cheese, and olives, and press them gently into the egg mixture. Sprinkle with grated cheese.
Bake for 45 minutes, or until a knife inserted in the center comes out clean. Let stand for 10 minutes before cutting. Serve warm or at room temperature.