Zucchini Quesadillas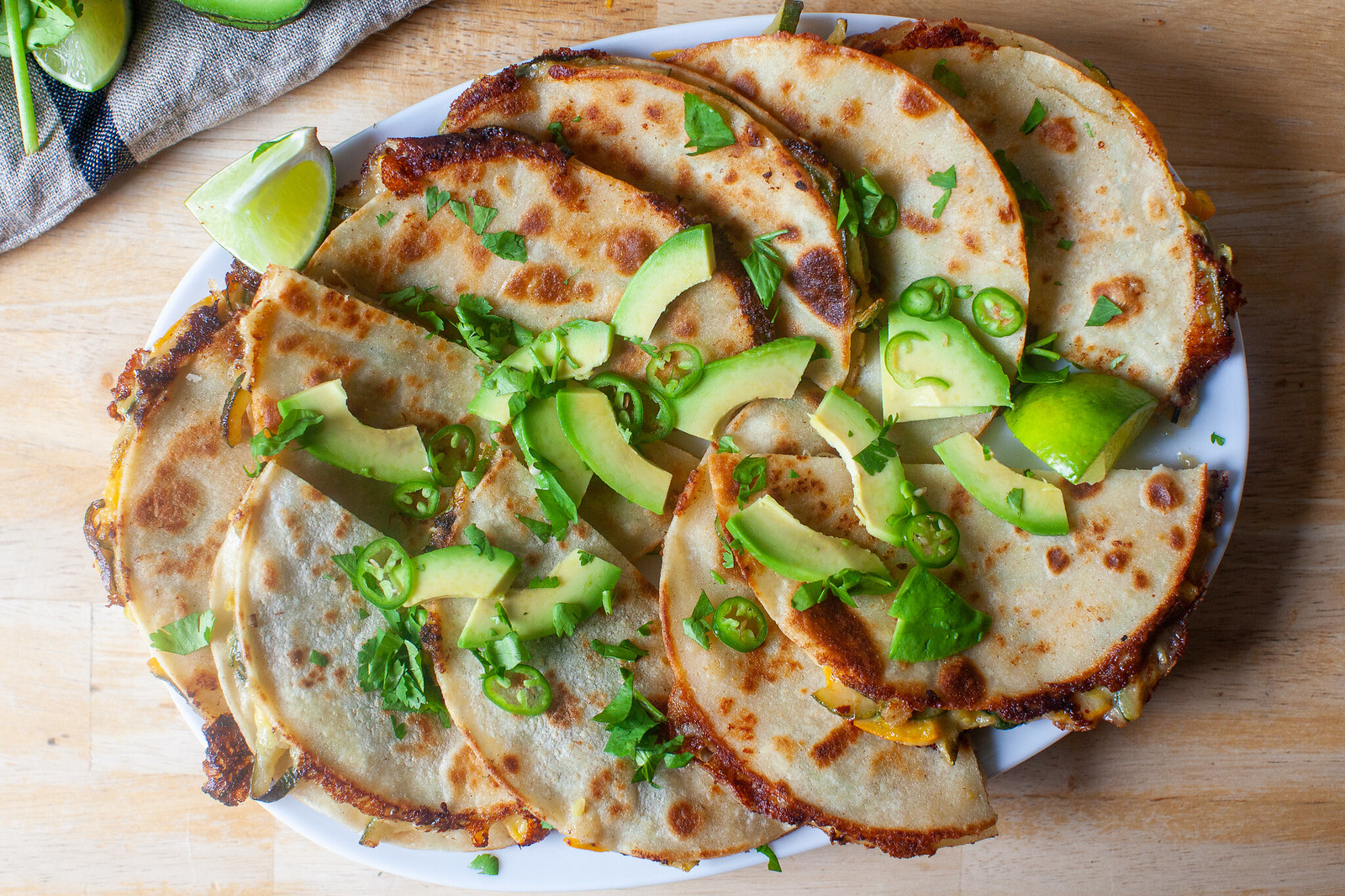 This may become your new favorite way to cook zucchini!  Found on the Smitten Kitchen food blog, this recipe has become a family favorite.  Make sure you cook the zucchini for a long time, until it practically turns to butter.  Makes 6 quesadillas.
Ingredients:
3 Tablespoons olive oil, plus more for frying quesadillas
2 to 3 garlic cloves, thinly sliced
½ teaspoon mild (Aleppo) or hotter red pepper flakes
1½ pounds zucchini or summer squash, halved and thinly sliced
Kosher salt
1 lime, halved
6 ounces grated Monterey jack cheese
12 6-inch corn tortillas
Sliced avocado, chopped fresh cilantro, additional lime, and thinly sliced jalapeño to finish
Procedure:
Heat a large skillet over medium, add oil. Once oil is hot, add garlic and cook, stirring, until just golden, about 1 min.
Add zucchini, 1 teaspoon kosher salt, and red pepper flakes and increase heat to medium-high. Cook, turning occasionally, until zucchini becomes soft and starts to break down, about 5 min.
Reduce heat slightly and cook 7-10 min more, at which point the zucchini will be jammy and very tender. Taste for seasoning. Add the juice of half your lime and scrape mixture into a wide bowl. Let cool slightly.
Add cheese to zucchini mixture and mix. Lay out 6 of your tortillas and divide the filling between them, going all the way to the edges. Place remaining 6 tortillas on top.
Heat your skillet to medium and add a couple teaspoons of oil. Transfer your assembled quesadillas to the skillet and cook until deeply golden and crisp underneath, letting whatever cheese seeps out cook and crisp in the pan. Flip quesadilla(s) and repeat on second side. Try to take all of the lacy brown cheese with you when you remove your finished quesadillas from the pan. Squeeze the juice of the remaining lime half over them.
Serve halved or in wedges with additional lime wedges, avocado, cilantro, and jalapeño.