Basic Kohlrabi (or other) Greens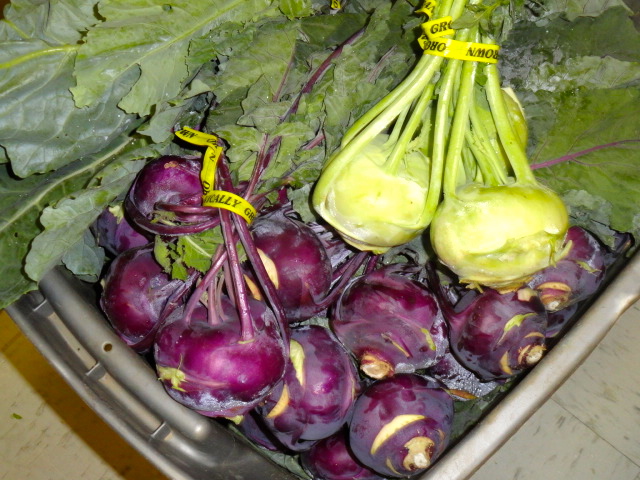 This recipe is adapted from the Joy of Cooking. It is a nice basic recipe that you can use for any of the greens we receive.
In a large pot, boil salted water over high heat.
Wash and then cut kohlrabi greens into ribbons.
Cook uncovered in boiling water until tender but not mushy, stirring occasionally.  Cook time is 10-20 minutes depending on age and thickness.  If you have smaller kohlrabi bulbs, chances are your greens will only need to cook 10 minutes. For larger, older bulbs with large, tough greens, cook longer.  More delicate greens may only take 2-5 minutes, keep checking!
Drain and serve!
For a twist:
Dress your greens with a spoonful of chopped raw onion and tomato, a dash of hot sauce and a dollop of Mayonnaise.
In a medium pan, sauté a small chopped onion in 2 Tablespoons olive oil until tender (2-5 minutes).  You could also use 1 clove chopped garlic or garlic scapes or a combination of all three.  Add cooked greens, tossing to coat (1-2 min).
Add some "kick" depending on your taste. Try one of the following: 1-2 teaspoons of your favorite mustard.  A few dashes of hot sauce or cayenne pepper.  A few dashes of grill seasoning or steak rub.
Sprinkle with salt and pepper to taste.  Toss to coat (1-2 min).  Remove from heat and serve!