Farm News- October 1, 2009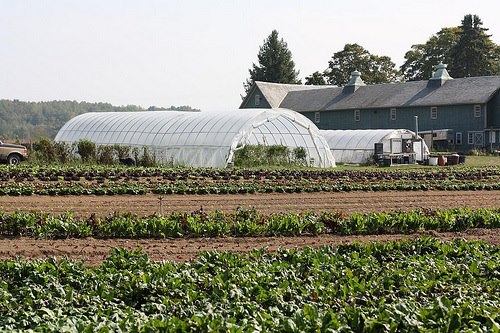 Hi Folks,
We've been taking advantage of the dry conditions during this past week to dig as many of the potatoes as possible. The potato digging machine that I own does not work well when the ground is wet and up until now we have been digging most of the potatoes by hand. This is not only a slow and laborious process but leaves some potatoes behind and many that are damaged by being speared by the pitchfork.
On Sunday I attended the Garlic Festival in Saugerties NY and purchased nearly 500 lbs. of seed garlic and 80 lbs of shallots to plant this fall for next years crop. Along with perhaps 100 lbs of our own crop that I have saved for planting this should be nearly twice the amount planted last year, and should provide ample quantities for next season's shares.
We have ample quantities of lettuce planted to finish out the season and it is growing nicely. At present however it is all too small to cut. We should begin to have lettuce for the shares in another week or two.
The string bean crop is coming along a bit slower than I had anticipated and won't be ready until next week. The edamame soybeans are also filling out slowly and will need another week to size up. The Swiss chard is beginning to grow well again but is also still to small to cut. I have decided to buy some chard this week from another local organic farm.
I will be sending various extras in the deliveries this week to try to compensate for a slightly light share this week. I hope that everyone can find something that they enjoy amongst the choices.
The share for this week will be:
Red skinned potatoes, Swiss chard, beets, red onions, peppers, ground cherries, delicata squash, and choice of an herb.
Enjoy!
Farmer John