Curried Acorn Squash and Apple Soup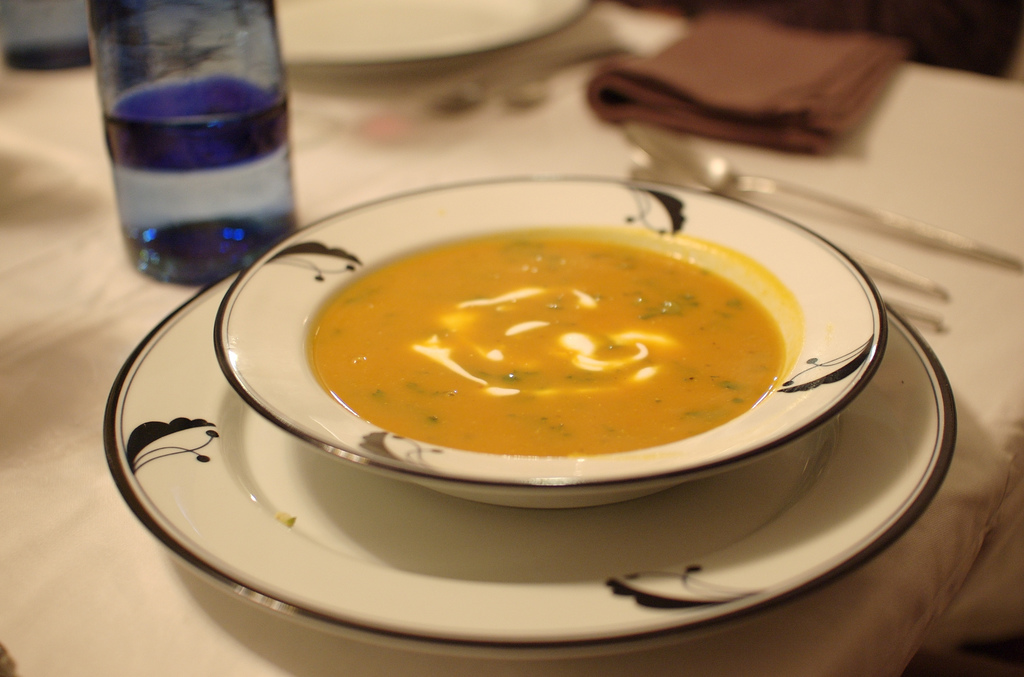 Acorn squash has a slightly sweet taste, which complements the sweetness of the apple and mild spice of the curry powder.  Enjoy this acorn squash and apple soup with some crusty whole-grain bread.  A great soup for stormy days. Or for Thanksgiving.  Makes about 24 cups of soup.
Ingredients
5 lbs (4 small) acorn squash, scrubbed, halved, strings discarded, and the seeds removed.
2 large onions, sliced
2 small red bell peppers, chopped coarse
6 Tbsp unsalted butter
4 large green apples, cored, peeled, and cut into 1 inch pieces
2 large baking potatoes, scrubbed and cut into 1 inch pieces
2 Tbsp curry powder
2 Tbsp Worcestershire sauce
2 cups heavy cream
Procedure
In large saucepan, bring 6-8 cups of water to a boil, add the squash, and boil it, covered, for 10 minutes, or until it is just tender. Transfer the squash with a slotted spoon to a colander, reserving the cooking liquid, and let the squash cool until it can be handled. Scoop out the flesh with a spoon and discard the skins.
In a kettle, cook the onion and the bell pepper in the butter over moderate heat, stirring, until the onion is golden brown. Stir in the squash, the reserved cooking liquid, the apples, the potato, the curry powder, the Worcestershire sauce, 8 cups of water, and salt to taste, bring the liquid to a boil, and cook the mixture, covered partially, at a slow boil, stirring occasionally for 15 minutes, or until the potato is tender.
In a blender, puree the mixture in batches, return it to the kettle, and stir in the cream and salt to taste.
The soup may be made up to 3 days in advance and kept covered and chilled.  Heat the soup over moderate heat, stirring, until it is hot, ladle into heated bowls, and garnish with toasted acorn seeds if desired.