Greens with Cheese (Saag Paneer)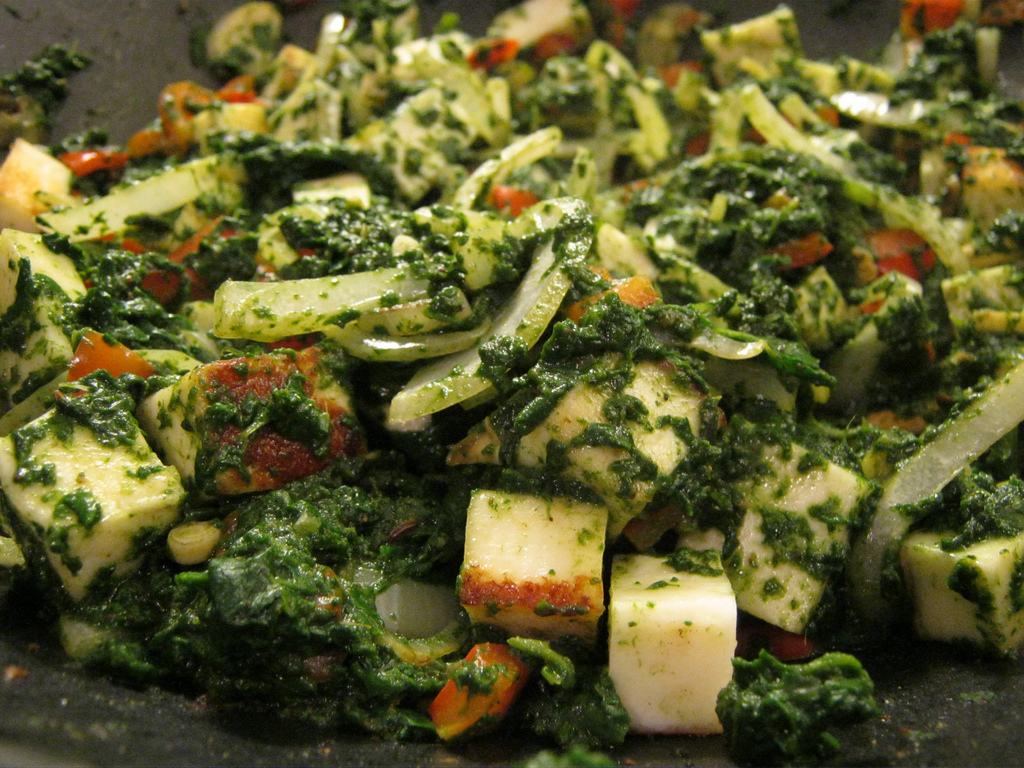 Here is a greens recipe, from CSA member Veronica Sidhu (author of Menus and Memories from Punjab: Meals to Nourish Body and Soul), using paneer cheese rather than lentils.  It is one most Americans are familiar with from Indian restaurant dishes.  Recipe may be halved or frozen.  Yields 8 servings (4 cups greens without cheese cubes).
Ingredients:
2 lbs. fresh spinach, cleaned and trimmed or 20 oz. baby spinach
½ – ¾ lb. fresh mustard, kale, or collard greens, cleaned and trimmed of large veins
¼ cup canola oil (more if frying paneer or tofu cubes)
2 large onions, chopped
3 cloves garlic, minced
1 inch piece of ginger, minced
½ tsp salt, or to taste
Pinch cayenne pepper, or to taste
2 cups ¾-inch cubes paneer or firm, drained tofu (fried until lightly browned, if desired)
Melted ghee (optional)
Procedure:
Coarsely chop the greens and put them into a large, tightly covered pot or pressure cooker with ¾ cup water.  Bring to a boil and reduce heat to medium low.  Continue to cook for 15- 30 minutes until greens are soft. Set aside to cool.
Meanwhile, heat the oil in a medium pot or non-stick wok and sauté the onion until transparent.  Add the garlic and ginger and continue to sauté, stirring until uniformly golden.
Purée the greens in a food processor or blender.  Add salt and pepper to taste.  Stir the greens into the onions and then stir in the paneer or tofu cubes.  Heat through and serve with a little melted ghee on top, if desired.  Traditionally eaten with corn flatbreads, it is also good with naan or phulkas (whole wheat flatbreads).