Radicchio Gratin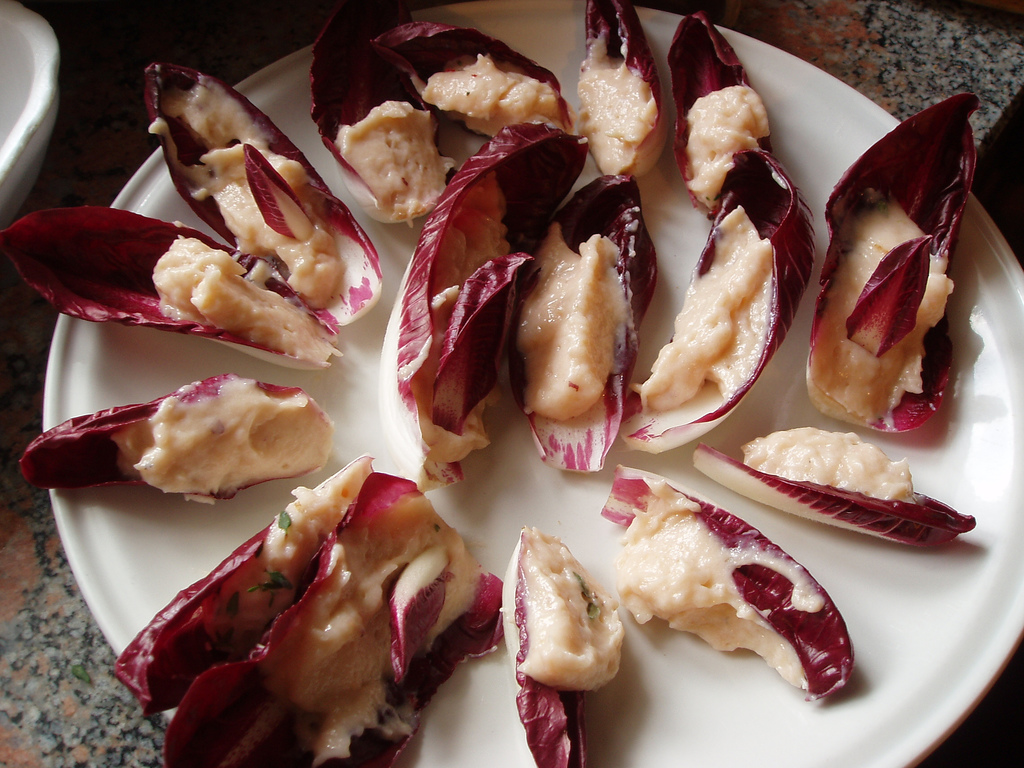 This recipe from the Stephen Cooks food blog demonstrates a deliciously simple way to use radicchio – broil it in the oven until it just starts to brown, then add cheese.  Try this recipe with different kinds of cheese, or sprinkle with bacon.
Ingredients:
⅓ Cup olive oil
2 Tbsp balsamic vinegar
1 tsp lemon zest
4 cloves garlic, peeled and sliced
1 Tbsp rosemary, chopped
salt, hot sauce to taste
1 head radicchio, dry exterior leaves and root-end removed
1 medium red onion, sliced vertically into thin crescents
¼ Cup fresh plain goat cheese, crumbled
2 oz Parmeggiano Reggiano
Procedure:
Cut the radicchio through the root into 8 spears. Combine the olive oil, vinegar, zest, garlic and rosemary to make a marinade. Season to taste and pour the marinade over the radicchio and onions and marinate for about 20 minutes, stirring frequently. Drain.
Arrange the radicchio and onions in an oiled fireproof dish and sprinkle with a little salt. Broil about 5″ from the heat for about 6 minutes, turning once. The edges of the radicchio should just be starting to brown.
Scatter on the goat cheese and then use a vegetable peeler to shave the parmesan cheese over the hot radicchio. Serve immediately.