White Root Bisque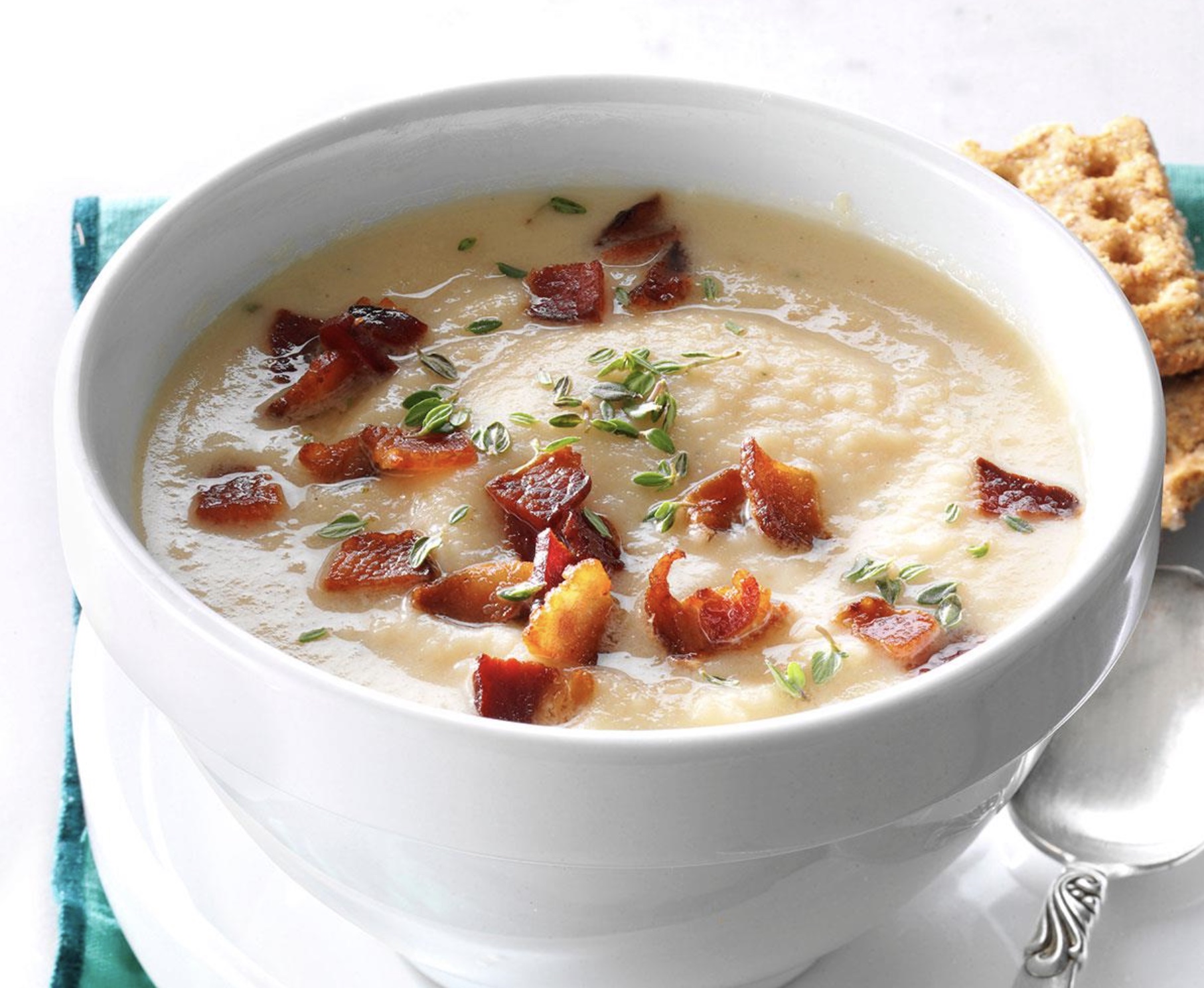 This is a delicious seasonal soup, served at Michael's on the Hill restaurant in Waterbury, Vermont, close to Stowe. The recipe serves 6 but can easily be doubled and it freezes well.
Ingredients:
2 Tablespoons  garlic, peeled and chopped
1 celery root, peeled and diced
1 onion, yellow, peeled and diced
1 white beet, peeled and diced
1 turnip, peeled and diced
2 potatoes, russet, peeled and diced
2 parsnips, peeled and diced
4 cups chicken or vegetable broth
3 cups cream
2 sprigs thyme
5 sprigs rosemary
3 inches butcher twine
5 inch square cheese cloth
Salt and freshly ground black pepper to taste
8 oz. smoked bacon, cut small, cooked until crisp, and drained on paper towels (optional)
Procedure:
Wrap the herbs in a cheesecloth, and tie the bundle securely with the twine; this will allow the herbs to be infused into the soup while making it easy to remove.
On medium heat, lightly sauté the onion and garlic until translucent; you don't want any color on them. Add the vegetables, broth, 2 cups of the cream, herb bundles, salt and pepper. Simmer until veggies are very tender.
Remove the herb bundle, and puree the soup (I use an immersion blender right in the pot). Finish soup with the remaining cream, adjust salt and pepper.
Garnish with crisp bacon bits, if desired. Enjoy the warm earthiness of this soup on a cold Fall or Winter day!!