Roasted Chicken Thighs with Delicata Squash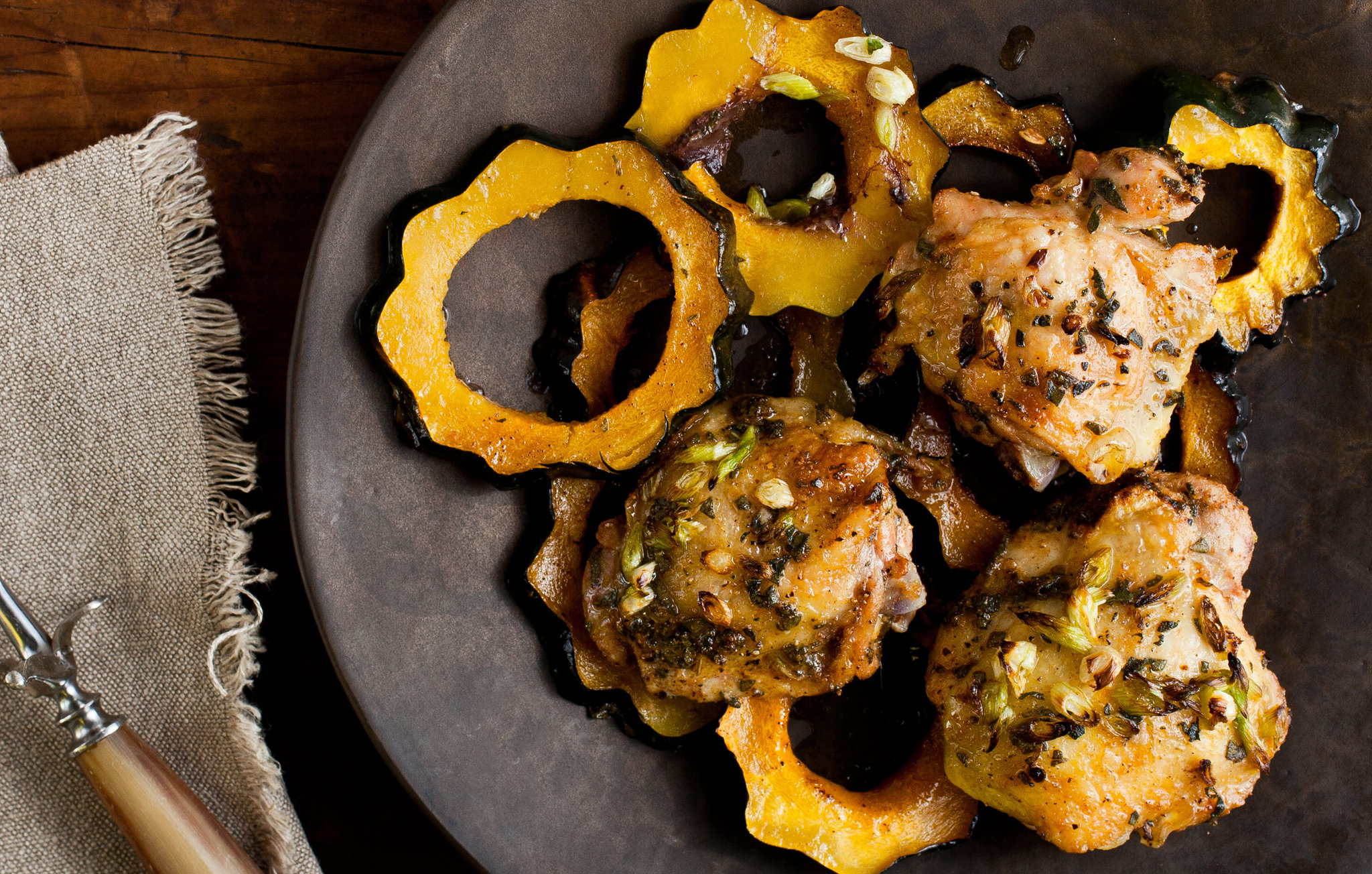 This Melissa Clark recipe from NY Times Cooking is tasty and easy enough; just don't let the ingredient list discourage you! It serves 4.
Ingredients:
½ lemon, ends trimmed, halved lengthwise, seeds removed and thinly sliced crosswise into wedges
4 bone-in, skin-on chicken thighs (about 1½ lbs)
1 Tablespoon plus 1 teaspoon Extra-Virgin Olive Oil
1 Tablespoon chopped sage
1½ teaspoon coriander seeds
1½ teaspoon kosher salt
1 teaspoon black pepper
¼ cup maple syrup
3 Tablespoons unsalted butter, cut into cubes
Large pinch chile powder
1 delicata or acorn squash (1¼ lbs), seeded and sliced into ¼-inch thick rings
¼ cup thinly sliced scallions, white and light green parts
Procedure:
Bring a small pot of salted water to boil; drop in lemon slices and cook for 2 minutes. Drain well.
In a large bowl, toss chicken with lemon slices, 1 Tablespoon oil, sage, coriander, 1 teaspoon salt and pepper. Let stand 30 minutes.
Heat oven to 425°F.
In a small saucepan over medium heat, combine syrup, butter, remaining ½ teaspoon salt and chile powder. Simmer for 3 minutes. Toss mixture with squash.
Spread squash in a 9×13 inch pan or on a large rimmed baking sheet. Nestle chicken and lemon on top of squash. Roast for 15 minutes.
In a small bowl, toss scallions and remaining 1 teaspoon oil. Scatter over chicken and squash; keep roasting until chicken is no longer pink, about 20 minutes more. Serve immediately.