Baked Radish Quinoa Salad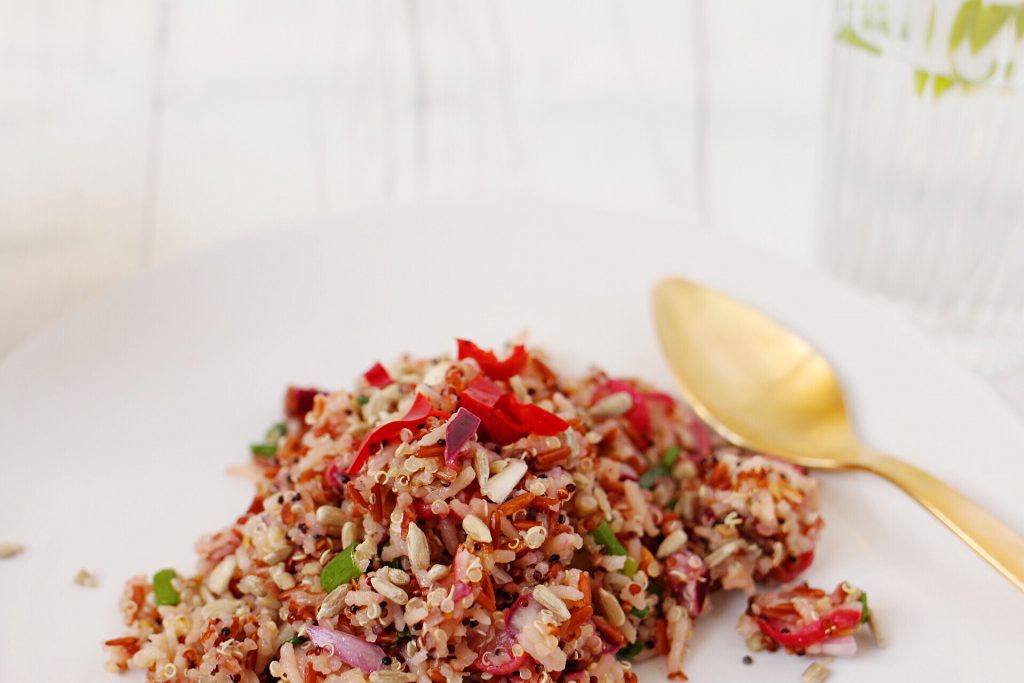 This baked radish and quinoa salad, found on the Jen Reviews health and food blog, is simple enough to make for lunch or dinner.  It contains all the tasty summer flavors and enough protein to keep you feeling full.  You can add more vegetables to this salad and/or use a different dressing – the options are endless!  Serves 3.

Ingredients:
8 radishes (classic or daikon)
2 cups quinoa
1 scallion
1 chili pepper
6 Tbsp olive oil (+ more for baking radishes)
3 Tbsp white wine vinegar
1 lime
sunflower seeds (optional)
salt and pepper
Procedure:
Preheat the oven to 400°F.  Slice the radishes, add a thin coating of olive oil, salt and pepper, then spread them out on a baking sheet.
Bake the radishes in the oven for 20 minutes. Remove and let cool.
Wash, then cook the quinoa in boiling water (about 15-20 minutes until fully cooked).
Cut 1 scallion and 1 chili pepper.  Add everything into a salad bowl and season with 6 Tbsp olive oil, 3 Tbsp white wine vinegar, juice of 1 lime, optional sunflower seeds, and salt and pepper to taste.  Mix thoroughly until everything is well combined.  Enjoy!