Farm News – June 17, 2010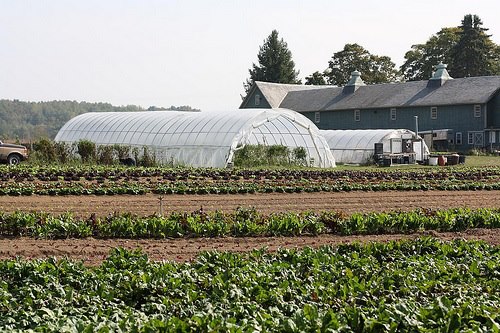 Hi Folks, The week you have been waiting for has arrived, the first delivery. We have lots of nice stuff in store for the be- ginning of the season. The spinach looks beautiful as do the lettuces and the peas have been flowering profusely.
We received a good slow rain just after my last writing and a drenching thunderstorm on Sunday, so we are in good shape in the moisture department.  We finished transplanting most of the warm weather crops this past week, with just another 1000 or so tomatoes to put in this week. We will also be planting out the mel- ons this week. The sweet potatoes plants have taken root nicely and should start to grow rapidly in another week.
The stage is set for a great season, now all we have to do is follow through – keep ahead of the weeds, get the tomatoes and cucumbers tied and trel- lised, and get the harvesting done.
The biggest challenge I face right now is a shortage of labor. I have 5 field workers presently, but I have been planning and working at bringing 7 more workers from Central America for the season. At least some of these I expected to be here by now.
I have experienced about every bureaucratic delay imaginable this year, beginning with the Dept. of Labor changing their address without notifying those who use the program or posting it on their website. After a month of correspondence with the Embassy in Guatemala I finally have appointments for the interviews the workers need to get their visas, on June 23. Hopefully the 3 workers from Guatemala will be here by early July. The other 4 from Honduras are still waiting in bureaucratic limbo for Immigration services to notify the Embassy there. I don't expect to see them until at least August! In the meantime I will have to go in search of day laborers, which is not really the best use of my time. Any volunteer help with the harvest will be greatly appreciated. Calling all pea pickers!
The share for this week will be: Spinach, lettuce (various types), peas, garlic scapes, kale, and radishes.
Enjoy! Farmer John