Farm News- October 4, 2012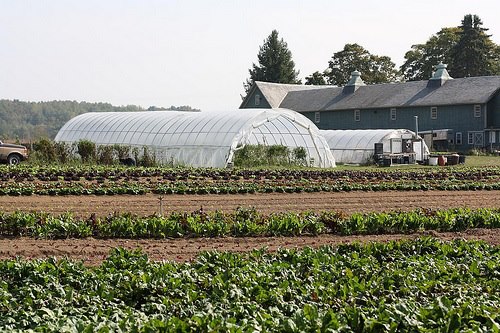 Hi Folks,
It's beginning to feel more and more like autumn. We've had some very cool nights this past week. We are hoping for at least 3 more weeks of frost free weather so that we can harvest from the final planting of beans and continue to pick summer squash. The eggplant and peppers have already slowed way down in their production. The sweet potatoes are still a bit small and could benefit from another couple of weeks of growth. We are little by little bringing in enough broccoli and cauliflower to gradually rotate through all groups with these crops. Very soon we will come into heavy production on the broccoli. The cilantro needs one more week to size up and the dill should be ready in 2 weeks. For this week we will be sending chives, thyme, and some of the flavored basils (lemon, Thai). We have beautiful escarole and endive and soon will have a nice crop of radicchio. We have gorgeous salad turnips for this week's root vegetable. We will soon be digging parsnips and celery root and the fall carrot crop should be ready in about 3 weeks.
The share for this week will be:
Romaine lettuce, choice of escarole or endive, garlic, acorn squash, yellow pota- toes, arugula, broccoli or cauliflower or kale, baby bok choy and choice of an herb.
Enjoy!
Farmer John