Farm News – July 4, 2016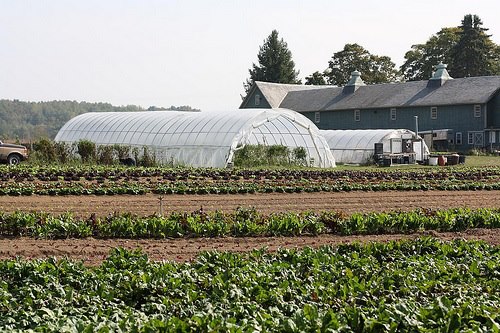 Hi Folks!  So we finally got some rain:  about 2" from several passing storms.  Most of the precipitation came in deluges, which is less than ideal but we are grateful for what we get.  One of these I narrowly escaped as I rushed out of the field on my small seeding tractor after planting some carrots.  I had just pulled it into the barn when the skies opened up and I was trapped there for a half an hour until the heavy rain abated.  That's the good news…
The bad news is that the rain came too late for a couple of crops.  We lost our Napa cabbage to a process known as bolting, in which, instead of forming a head, the plant the sends a flower stalk up through its center — a common reaction to stress from drought or excessive heat.  We are planting more now and will have at least one and probably two harvests in the fall. The other casualty is the pea crop which is in premature decline.  This will be the last week for peas.
Nevertheless, we have an excellent share for you this week.  We have some very nice fennel and Elephant garlic.  This is a mild type, not a "true" garlic they say, but more closely related to leeks, and in fact we are shipping it with a green stem that can be used like a leek or to make soup stock.  We are cutting a lot of lettuce to keep ahead of the bolting issue, so there will be 2 heads again this week: a red oak leaf and a red romaine or Boston type.  We are offering a choice of radicchio or frisée, and a choice of spinach or Swiss chard.  This will be the last of the spinach until the fall.  Some groups will receive kale and others will receive broccoli.
Radishes (some unusual varieties) will be the root veggie of the week.  I know that there are many who don't like them, but keep in mind that they can be cooked in stir-fries or soups and lose their bite.  If you plan to store them for a while, remove the tops or the radishes will get mushy.  We have an abundance of squash and the cucumber crop is beginning as well.
The share for this week will be: Lettuce (𝗑2), arugula, choice of spinach or chard, elephant garlic, sugarsnap or snow peas, summer squash, fennel, radishes, broccoli or kale, choice of radicchio or frisée, cucumbers and choice of an herb.  Also mustard greens as an extra.
Enjoy!  Farmer John