Celeriac Soup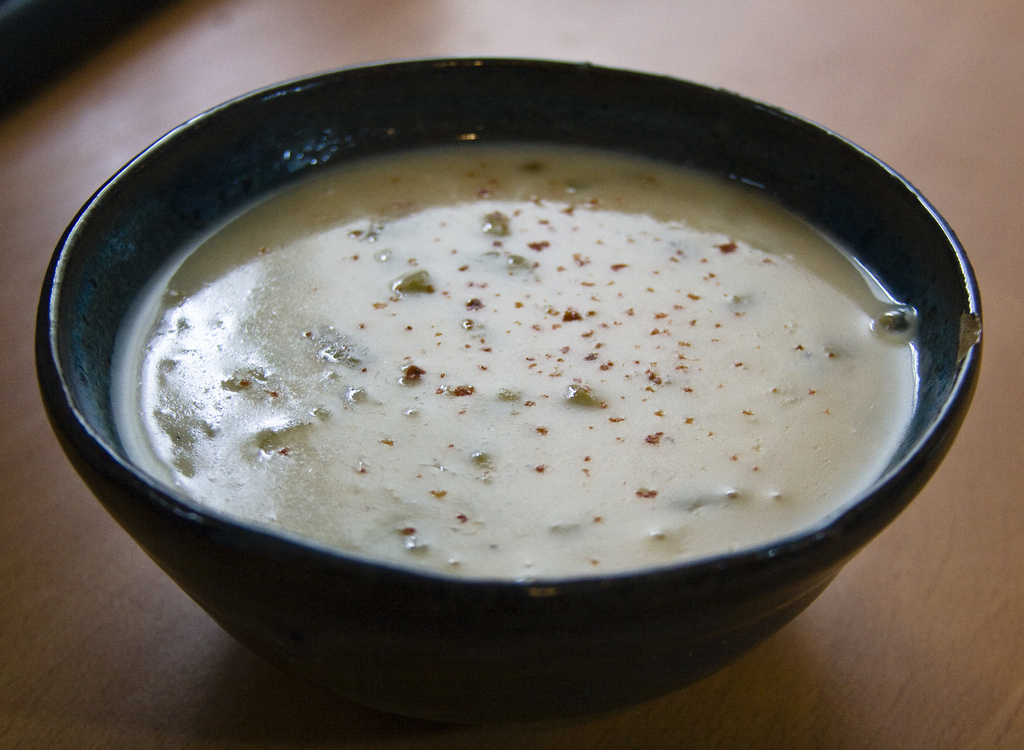 A fairly easy and quick recipe for those cold Winter days, courtesy of the Food Network Magazine.  As presented, the recipe serves 4.
Ingredients:
3 Tablespoons butter
2 leeks, green top removed, coarsely chopped
1 onion, coarsely diced
2 bay leaves
3 sprigs fresh thyme
½ cup white wine
1 celeriac, peeled, coarsely diced
1 potato, peeled, coarsely diced
6 cups vegetable stock
1 cup heavy cream
Salt and freshly ground black pepper
Pinch fresh nutmeg
¼ cup sour cream, for garnish
1 Tablespoon black sesame seeds, for garnish
Procedure:
Put 2 Tablespoons of butter in a pot over medium heat.  Once the butter has melted, add the leeks, onion, bay leaves, and thyme and stir until the onions are translucent.
Add the white wine and reduce the liquid by 2/3.  Add the diced celeriac and potato, stir.  Add the vegetable stock and bring up to a boil, then reduce the heat to a simmer.
Cook until the celeriac is tender, approximately 35 to 40 minutes.  Carefully transfer the mixture into a food processor and puree until smooth (or use an immersion blender and puree directly in pot).  Stir in the cream and remaining Tablespoon of butter.  Season the soup with salt, pepper, and nutmeg.
To serve, garnish the soup with sour cream and black sesame seeds.