Red Lentil, Sweet Potato, Carrot, and Apple Soup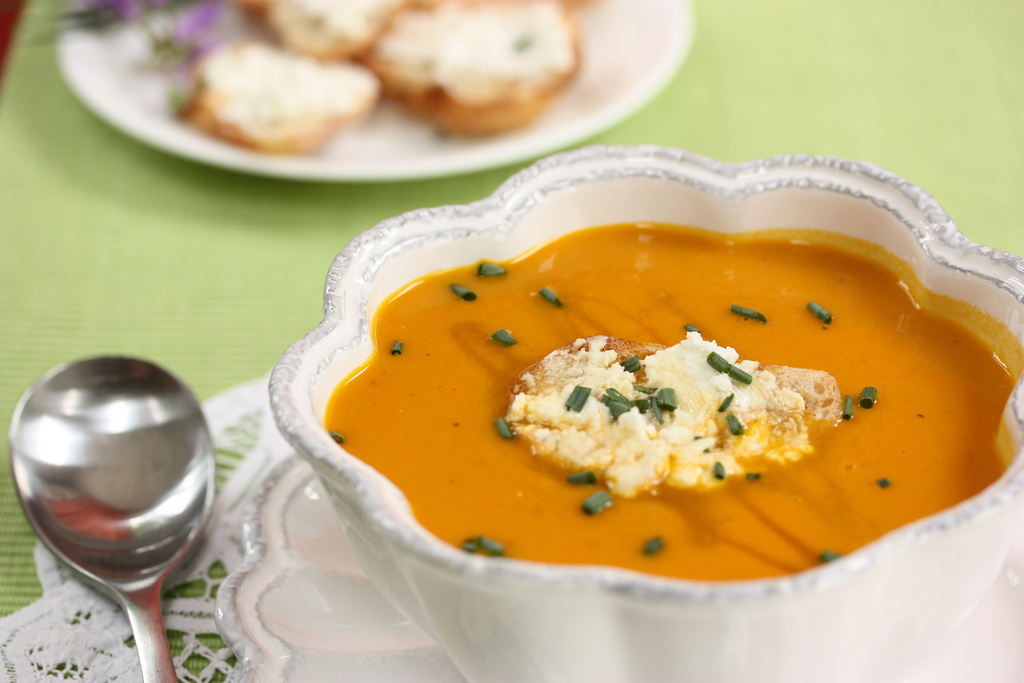 This recipe from allrecipes.com is a great Autumn soup, and can easily be doubled so that you can freeze some for a cold wintery day.  This soup is also great served with crumbled feta cheese instead of yogurt as garnish.  As is, it serves 6.
Ingredients:
¼ cup butter or olive oil
2 large sweet potatoes, peeled and chopped
3 carrots, peeled and chopped
1 apple, peeled, cored and chopped
1 onion, chopped
½ cup red lentils
½ teaspoon minced fresh ginger
½ teaspoon ground black pepper
1 teaspoon salt
½ teaspoon ground cumin
½ teaspoon chili powder
4 cups vegetable or chicken stock
1 small container plain yogurt
Fresh parsley or other herb
Procedure:
In a large, heavy-bottomed pot place oil, chopped sweet potatoes, carrots, apples, and onion.  Stir over medium-high heat and cook until onions are translucent, about 10 minutes.
Add ginger and spices and stir, cooking another 1-2 minutes.  Add stock and lentils, bring to a boil, then reduce heat to medium-low, cover and simmer until the vegetables are soft, about 30 minutes.
Using an immersion blender, purée the soup, and return to a low simmer over medium heat.  Add water to thin the soup as needed to your preferred consistency.  Serve with a dollop of yogurt and fresh herb as garnish.