Bok Choy with Shiitakes and Oyster Sauce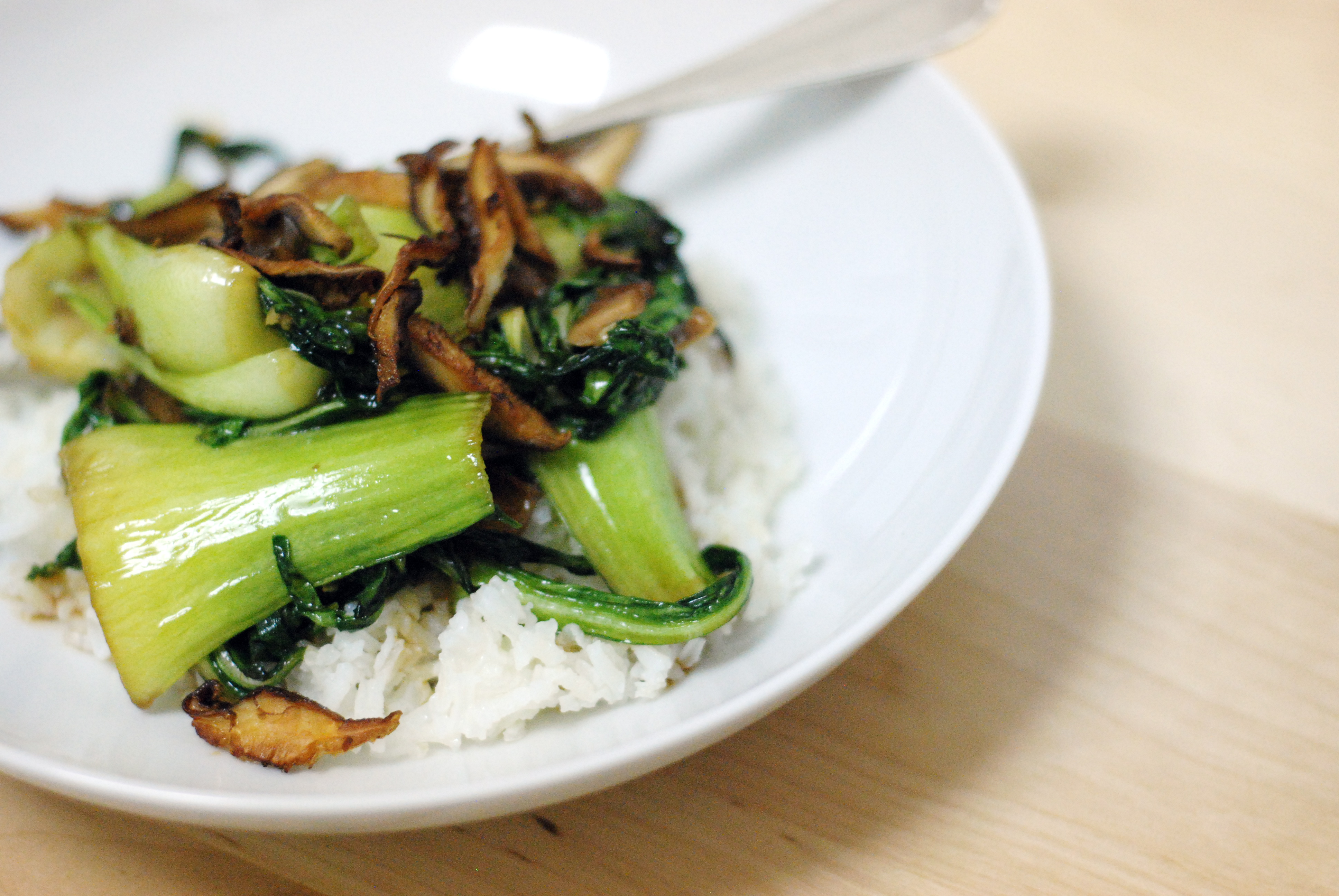 This recipe is from Mark Bittman who writes "The Minimalist" column in the New York Times.  If you do not have any dried shiitake mushrooms, so you can use fresh shiitake mushrooms.  Where the recipe calls for reserved mushroom water from the dried mushrooms, you can substitute chicken broth.  Yields 4 servings.
Ingredients:
¼ cup dried shiitake mushrooms
1½ pounds bok choy, trimmed
¼ cup peanut oil, divided
1 Tablespoon minced garlic (optional)
1 cup fresh shiitake mushrooms, cleaned, trimmed and sliced
½ to ⅓ cup commercial oyster sauce
Procedure:
Soak shiitakes in one cup of very hot water until tender, about 15 minutes.  Drain, reserving liquid.  Trim mushrooms and chop.  Separate leaves and stems of bok choy; cut stems into 2 inch lengths and slice leaves into ribbons.
Heat 2 Tablespoons oil in a wok or large skillet over high heat.  When oil is hot, add bok choy stems, garlic if you are using it, reconstituted mushrooms, and about ¼ cup reserved mushroom water.  Cook, stirring frequently, until stems are crisp-tender, about 4 minutes.
Meanwhile, in a small skillet heat remaining 2 Tablespoons oil; sauté fresh shiitake mushrooms over medium-high heat.  Continue cooking until they begin to brown and crisp on the edges.
Into the large skillet or wok, add bok choy leaves and oyster sauce and toss vegetables gently to combine; continue cooking until greens wilt, about 2 more minutes.  Serve immediately, topped with crisp mushrooms.