Bacon and Egg Coconut Flour Muffins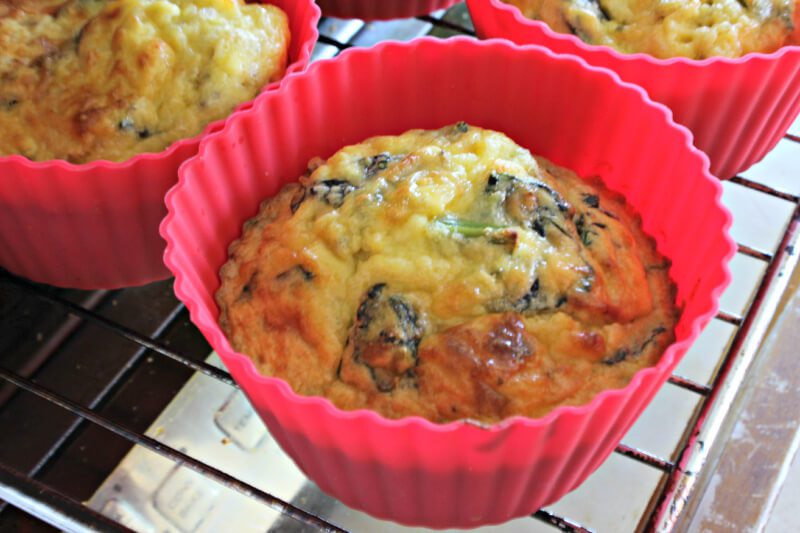 Found on thecoconutmama.com food blog, these bacon and egg coconut flour muffins are easy to make and are wonderful high protein breakfast option.  I make a few batches of these every month so my family has a healthy, protein rich, quick breakfast option on hand.  They freeze well too!
This recipe is very flexible.  You can omit the sour cream if you don't have any on hand.  The sour cream makes these muffins a little less dense and more fluffy.  You can also swap sausage or steak in place of the bacon if you prefer.
Ingredients:
4 eggs
¼ cup organic sour cream
4 Tablespoons coconut flour
¼ teaspoon sea salt
¼ teaspoon baking powder
8 strips cooked bacon, chopped
½ cup shredded cheese (we like to use pepper jack)
½ cup chopped organic greens (we like to use kale or spinach)
Procedure:
Pre heat oven to 375°.
Mix eggs and sour cream together.
Add coconut flour, salt, baking powder, bacon, cheese and greens.
Stir batter and let it sit for approximately 5 minutes.
Pour the batter evenly into 4 large muffin cups or 6 small muffin cups.
Make sure to only fill 3/4 full. The muffins will rise while baking.
Bake muffins for 15-18 minutes, or until the top of the muffins are golden brown.
Let muffins cool before serving.