Acorn Squash Soup with Kale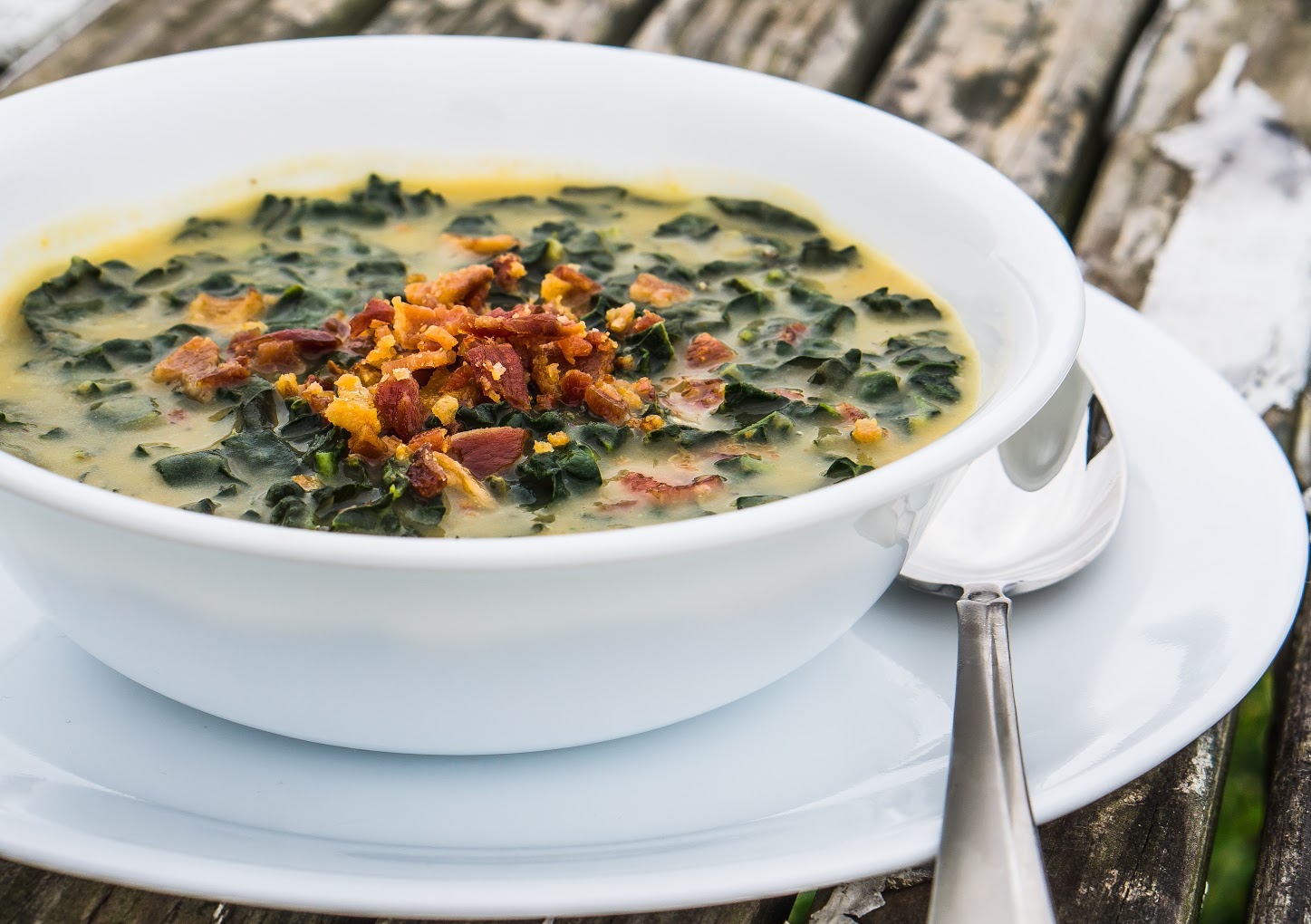 One rarely comes across acorn squash soup (mostly we see butternut as the main ingredient), but this one from marthastewart.com is tasty and colorful – we eat with our eyes first, right?  Savory bacon and peppery kale pair well with the sweet, nutty flavor of pureed acorn squash in this hearty soup.  The recipe serves 4.  Try it!
Ingredients:
2 medium acorn squash (about 4 cups purée)
2 Tablespoons butter
Ground nutmeg
4 strips of bacon, cut crosswise into ½" pieces
1 medium onion, finely chopped
½ lb. kale, thick stems removed, leaves finely chopped (about 8 cups)
Coarse salt and ground pepper
Procedure:
Preheat oven to 400°F.
Slice squash in half and scoop out seeds.
Place face down in a large baking dish and add about ½ inch of water.
Bake for 30-45 minutes depending on size of the squash until the skin is easy to pierce with a fork and the flesh is soft.
Remove from oven and scoop out the flesh of the squash once cool enough to handle.
Using a blender, purée squash flesh with 2 Tablespoons butter and 1 teaspoon coarse salt.  Sprinkle lightly with ground nutmeg and set aside.
Cook bacon in a large skillet over medium heat until crisp, 4-5 minutes.  Remove with a slotted spoon and set aside over a paper towel lined plate.
Add onion to the fat in pan and cook until softened, about 4-5 minutes.  Add kale and cook until soft, 3-4 minutes.
Combine skillet contents, squash purée, and 3 cups water (or more depending on desired consistency) in a saucepan over medium heat; bring just to a boil. Season generously with salt and pepper.
Garnish with reserved crisp bacon and serve.