Baked Eggplant Parmesan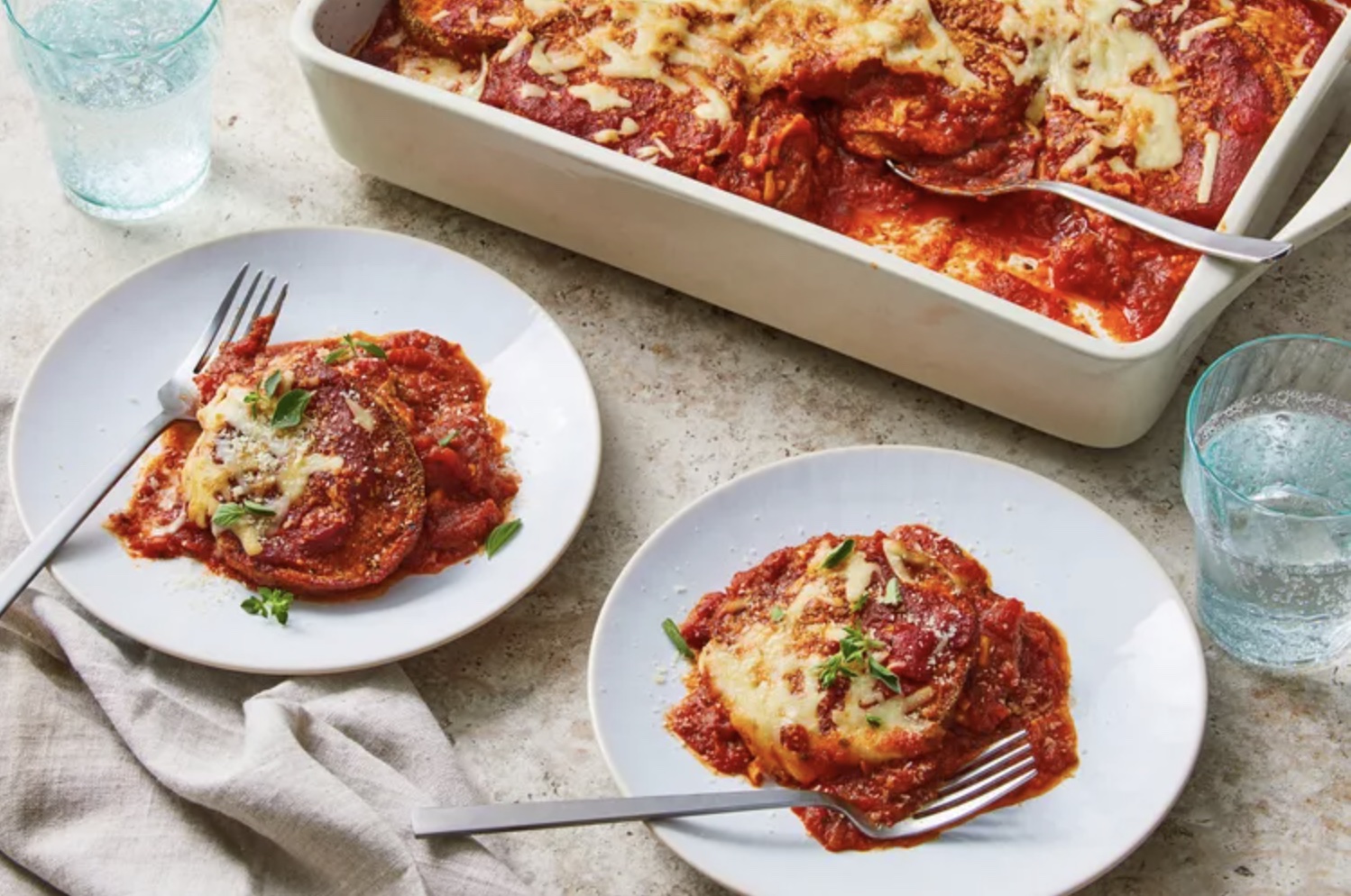 This baked eggplant recipe, found on marthastewart.com is much lighter than the fried alternative. It's more healthy, and won't leave your kitchen stove messy and oil-spattered.  It's always a crowd-pleaser and will satisfy meat eaters and vegetarians alike – don't expect to have many leftovers! Serves 8.
Ingredients:

2 large eggs
¾ cup plain dry breadcrumbs
¾ cup finely grated Parmesan, plus 2 Tablespoons for topping
1 teaspoon dried oregano
½ teaspoon dried basil
Kosher salt and freshly ground pepper
2 large eggplants (2½ pounds total), peeled and sliced into ½-inch rounds
6 cups (48 ounces) tomato sauce
1½ cups shredded mozzarella
Procedure:
Preheat oven to 375°F. Brush 2 baking sheets with oil; set aside.
In a wide, shallow bowl, whisk together eggs and 2 Tablespoons water.
In another bowl, combine breadcrumbs, ¾ cup Parmesan, oregano, and basil; season with salt and pepper.
Coat eggplant in egg and breadcrumb mixtures. Dip eggplant slices in egg mixture, letting excess drip off, then dredge in breadcrumb mixture, coating well;  place on baking sheets.
Brown eggplant: Bake until golden brown on bottom, 20 to 25 minutes. Turn slices; continue baking until browned on other side, 20 to 25 minutes more.  Remove from oven; raise oven heat to 400°F.
Spread 2 cups sauce in a 9-by-13-inch baking dish.
Layer half of the eggplant over the sauce.
Cover eggplant with 2 more cups sauce, then ½ cup mozzarella. Repeat with remaining eggplant, sauce, and mozzarella
Sprinkle with remaining 2 Tablespoons Parmesan.
Bake until sauce is bubbling and cheese is melted, 15 to 20 minutes. Let stand 5 minutes before serving.