Cold Green Bean Soup (Hungarian)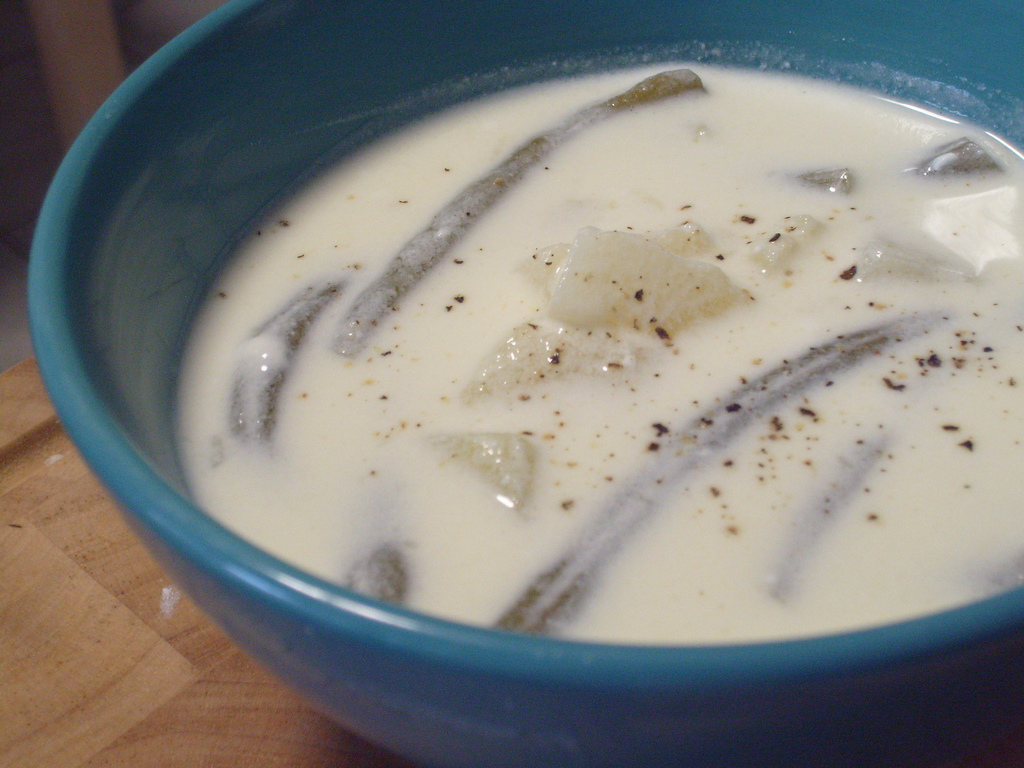 This surprisingly easy and tasty recipe is from The Complete Book of Soups and Stews by Bernard Clayton Jr.  It is great served hot or cold and freezes well.  Try it with all the different varieties of green beans we receive.
Ingredients:
1 lb green beans cut in ½ inch lengths
5 cups water
3 tablespoons white vinegar
2 tablespoons chopped onions
2 tablespoons sugar
1 teaspoon salt (optional)
1 garlic clove chopped
1 cup sour cream (optional)
2 tablespoons flour
1 tablespoon tarragon vinegar (substitute any vinegar)
paprika and croutons to garnish
Method:
Place beans in medium saucepan with water, white vinegar, onion, sugar, salt and garlic. Bring to a boil, reduce heat, cover and simmer for 30 minutes or until the beans are tender, but not mushy. Cooking may require more time if the beans are tough and fibrous.
In a small bowl combine the sour cream and flour. When the beans have cooked, ladle out ½ cup of the bean liquid and stir it into the sour cream mixture. Return the blended sour cream to the soup and simmer, stirring for 5 minutes. (Note: If you don't prefer sour cream, this recipe was great without it.) Add tarragon vinegar.
Remove saucepan from heat.
Taste the soup. Bite into a bean to check the texture and tenderness. If desired, put the soup (all or some) in the food processor and cut the beans into smaller bits.
Allow the soup to cool at room temperature before chilling in the refrigerator 3 hours or longer. (Note: While cold soup is great on a hot summer day, the soup is also good hot.)
Serve the soup in chilled bowls. Sprinkle with paprika. Pass the croutons.