Moo Shu Turkey (or Tofu)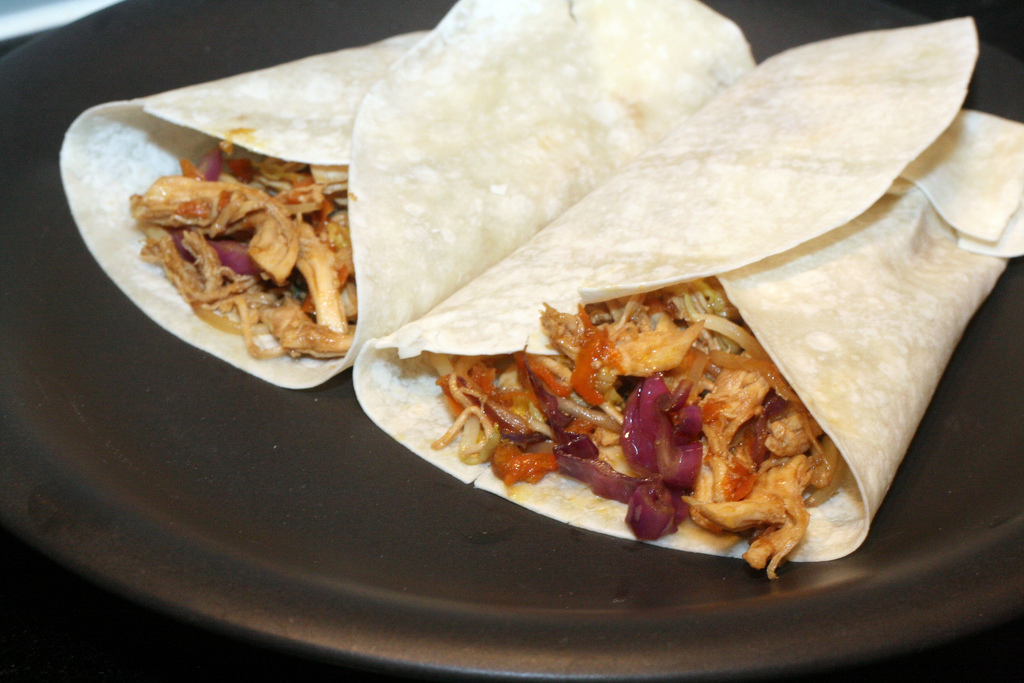 Here's a great recipe for cabbage and leftover poultry! Feel free to use tofu instead of the cooked turkey or chicken for a vegetarian option.
Ingredients
8 low-fat tortillas (6-inch diameter)
3 tablespoons hoisin sauce
¾ teaspoon sesame oil
1 teaspoon olive oil
8 ounces fresh mushrooms, sliced
½ medium red pepper, thinly sliced
2 cups cooked turkey (or chicken), shredded
Nonstick vegetable cooking spray
2 tablespoons soy sauce
3-4 green onions, thinly sliced
1 small head cabbage sliced and shredded
1 garlic clove, crushed
2 teaspoons fresh ginger, peeled and grated
Method:
Warm tortillas as label directs.
Meanwhile, in a small bowl, mix hoisin sauce, soy sauce, and sesame oil until smooth. Set aside.
Thinly slice green onions, reserve half for garnish.
In a nonstick skillet, heat 1 teaspoon olive oil over medium-high heat. Add mushrooms and cook until all liquid evaporates and mushrooms are browned, about 8 minutes. Remove the mushrooms to a bowl.
Spray the same skillet with nonstick cooking spray. Then cook the cabbage, red pepper, and sliced onions for 3 minutes, stirring constantly. Add garlic and ginger; cook 1 minute longer, stirring constantly. Stir in shredded turkey, hoisin sauce mixture, and mushrooms. Heat through.
To serve, spoon turkey mixture onto warm tortillas and roll up. Garnish with reserved green onions.
Makes about 4 servings (two tortillas per serving)