Farm News – June 24, 2010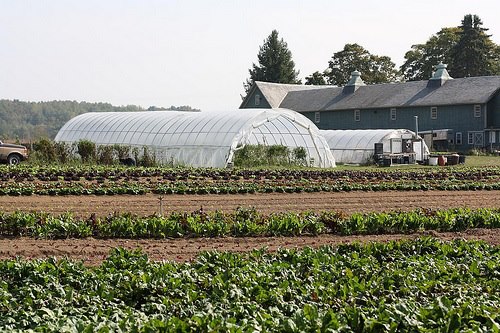 Hi Folks, The first round of deliveries seems to have gone fairly well, from all reports. Some lucky groups got broccoli last week, an item that wasn't on the list. Those that did not, will receive it this week. We are beginning to cut summer squash, though not in great quantity, so we will begin a similar delivery rotation with this crop until we have more in 2 weeks.
Which leads me to the following disclaimer: We reserve the right to omit or change any item on the farm update list from your actual share for that week. We also reserve the right to add a vegetable to your share which was not on the list. We have at present what I suppose should be called a good problem to have: we have too much foodstuffs. There is enough spinach for this week and probably next week. It still looks beautiful but it won't hold as we head into some hot days this next week (and I was trying so hard not to talk about the weather!). The problem is that we don't have the time to harvest it all, and don't want to overwhelm you, the members, with too many greens all at once. All of the mustards, tatsoi, broccoli raab, and green wave, are bolting to flower and the arugula is already too far gone to salvage anything from this planting.
We will be sending as much broccoli raab as we can as a choice with the mustard greens this week. The flowers have been damaged a bit by a new pest, the tarnished plant bug, but the leaf is nice, and there's never much of a bud with raab anyway. There will also be Hakurei salad turnips in the share this week, a favorite among the veterans and hopefully a new treat for the neophytes. They are delicious eaten raw, sliced like a radish, or grated in salads, or can be cooked. The root is sweet and mild-flavored and the leaf can also be steamed or braised.
I apologize that there was so much soil on several items last week. We had a torrential downpour last Sunday and it splashed a lot of soil onto the leaves.
Lastly, many thanks to the pea picking volunteers who came out to the farm to lend a hand today. We had representatives from Metuchen, Jersey City, Westfield, and Staten Island. Together they picked about 120 lbs. of peas.
The share for this week will be: Red leaf lettuce, scallions, salad turnips, sugar snap peas, spin- ach, a mustard (tatsoi, broccoli raab, green wave), choice of endive or escarole, broccoli (some groups), summer squash (some groups), and choice of an herb (parsley, cilantro, dill) .
Enjoy! Farmer John