Farm News – July 15, 2010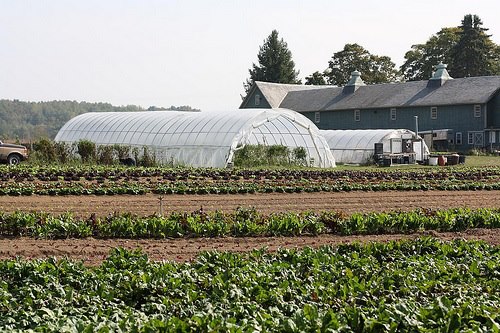 Hi Folks, I am happy to report that the farm received nearly 2 inches of rain this past Friday night into Saturday morning, much more than expected and a bit more than was needed, but nevertheless a huge relief. We were spending too much time moving sprinklers around and thus unable to begin preparing ground for the fall planting which will begin soon.
The tomato crop looks good so far and I anticipate having sufficient quantities to begin distributing in 2-3 weeks. Peppers and eggplant are on the horizon, too. The pea harvest is done but we are still picking a few shell peas and some snow peas which were planted late. Their replacement in the legume category, the string beans, is just beginning to fill out. The plants have been looking quite sad this past week, a result of the dry conditions and also the damage caused by the bean beetle.
While we are on the subject, 2 weeks ago I discussed the Mexican bean beetle and the biologic control program run by the NJDA. I try to inject some humor into my writings and I jokingly referred to these insects as "undocumented aliens." I received a message from one of the members saying that she found this offensive. I apologize if any one else did not find this amusing; I did not mean to compare undocumented immigrants to bugs. I have tremendous respect for the hard work done by the immigrant population. I have seen the poverty that exists in Central America and I have sympathy for the risks that are taken and the sacrifices made by them in order to provide a better life for their families.
I wish to thank those members who came out this past Sunday to help with the garlic harvest. We were able to bring in about a third of the crop.
We had to harvest large quantities of lettuce in the past few weeks so as not to lose them to bolting in this heat. Some of the varieties do not hold well and the coolers are getting quite full. We will be sending 2 different types of lettuce in the shares this week. Hopefully you won't mind eating lots of salad this week. We also had to harvest the Napa or Chinese cabbage this past week, so that will be in the share.
The share for this week will be: Romaine Lettuce, green leaf lettuce, Napa cabbage, choice of kale or Swiss chard, elephant garlic, carrots, summer squash, cucumbers, peas or green beans and choice of an herb.
The Fruit Share will be blueberries and peaches.
Enjoy! Farmer John