Farm News- October 13, 2011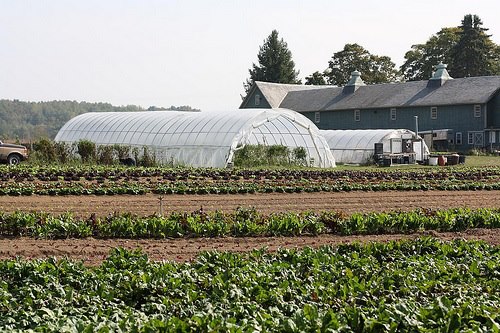 Hi Folks,
It's been a glorious week of sunny weather and mild temperatures. Our fields are finally beginning to dry out although there are still a few wet spots about. While daytime temps have been balmy it is getting chilly at night and clear skies mean strong radiative cooling. We came perilously close to a frost this past Friday morning. Frost warnings were issued for our area so we scrambled to harvest anything that might have been lost and covered the peppers to protect them. Alas, the frost did not come to pass, so our efforts were unnecessary, but as they say — better safe than sorry. It now appears we should have nearly 2 weeks before cold nights are forecast. This should give the Cranberry beans a chance to mature and perhaps give us one more harvest of peppers. It also means a bit more time for the sweet potatoes to grow; at present they are rather smaller than I would like. We picked the last of the string beans while still fairly small, so we don't have large quantities. We also have small quantities of lima beans and edamame soybeans. The main crop of edamames I planted did not germinate well and had to be abandoned. We will offer the different beans as a choice for this week. We have been bringing in moderate quantities of broccoli and cauli- flower and so we are in a rotation, shipping these out to different groups as availability allows.
The share for this week will be:
Green leaf lettuce, red skinned turnips, spinach or Swiss chard, choice of arugula, tatsoi, or other mustard greens, red onions, potatoes, choice of beans, peppers, pumpkins, and choice of an herb– dill, cilantro, or parsley.
Enjoy!
Farmer John