Farm News- October 20, 2011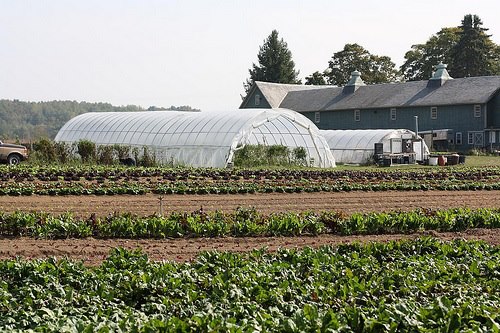 Hi Folks,
It was another week of mild temperatures and the rain that was predicted fortunately did not amount to much. The fields are still very soggy and I am a bit worried about how I will plant my cover crops and prepare the beds to plant next season's garlic crop. There is not much rain forecasted for the next ten days and the breezy conditions are helpful in drying out the ground so, hopefully, there will be a window of opportunity soon. We have finished harvesting the potato crop, which is a relief. We did lose a substantial amount to rot in the low lying areas. We have enough to ship potatoes in the shares twice more for this year. We have begun to dig the sweet potatoes and the harvest is a bit better than it appeared at first. While they are not as large as last season, the yields are good and the quality of most of the tubers is excellent. We do have some of the orange variety which came out of low areas that have some issues. We will be shipping these out first as they will not store well. Peel away the bad spots and eat them promptly. We are in the process of curing the rest of the crop which requires keeping them for 4-5 days at 95 degrees. This enables them to be stored and improves the eating quality. Expect to receive sweet potatoes 2 or 3 more times during the remainder of the season.
We have come to the end of the string bean season and we are still waiting for the Vermont Cranberry beans to mature. We may have enough green beans for one more round but more likely we will have to include them as an "extra" this week. We have begun to harvest the fall carrot crop and they look very nice and should be fairly sweet. We have red cabbage but, due to flooding losses, not enough for all members, so we will offer it as a choice with green or Napa cabbage. We also have a fair amount of nice escarole, but again, not enough for all members (a consequence of deer damage). We will offer it as a choice with kale.
The share for this week will be:
Green lettuce, carrots, acorn squash, choice of tatsoi or other mustard green, sweet potatoes, choice of red, green or Napa cabbage, yellow onions, and choice of an herb.
Enjoy!
Farmer John