Farm News – June 13, 2013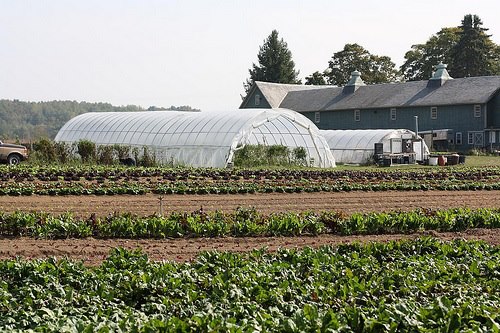 Hi Folks, We have arrived at the week you've been waiting for – the first delivery of the season. Here come the veggies! We've been working hard for you and in spite of the meteorological challenges of the spring, have a very nice first share to bring you.
The first share will be rather heavy on the greens but the early shares generally are. The spinach crop is especially beautiful. I planted more than I have in the past and it germinated quite well, so we will be able to send 2 bunches per share. This is how I planned it since I know that spinach cooks down significantly and one really needs more than 1 bunch to make any kind of dish with it. We have several types of lettuce ready to cut; red leaf, green leaf and a red Boston.
There will be peas on your plate provided we can pick them promptly (say that 3 times fast!). Most of you will receive the English or shell type, but some groups will get sugar snap (edible pod). I keep careful track of who gets what each week, so that everyone will get an equal amount of all 3 types of peas over the next 4 or 5 weeks.
We have a purple bok choy which was bolting badly, so we had to cut it on Thursday and hold it in the cooler. The herbs are still a bit small so we will have to wait until next week for cilantro and dill.
I hope to have sufficient radishes for everyone, but the second planting is still sizing up, so if not this week then next. The arugula is very peppery as it always is this time of year. We will offer it as a choice with tatsoi, a much more mild mannered Asian mustard. The recent surge in popularity of kale has not escaped me and we planted twice as much as last year. We have beautiful Red Russian, Rainbow Lacinato, and Redbor varieties as well as the green type.
And the first delivery would not be complete without garlic scapes. These are the flower buds of the garlic. They can be chopped finely and sautéed, grilled, pickled, or blended to make a kind of pesto. They also store for weeks in the refrigerator, so don't feel you need to use them up quickly.
The share for this week will be: Lettuce, peas, kale, arugula or tatsoi, purple bok choy, spinach (2 bunches), radishes and garlic scapes.
Enjoy! Farmer John