Farm News – July 18, 2013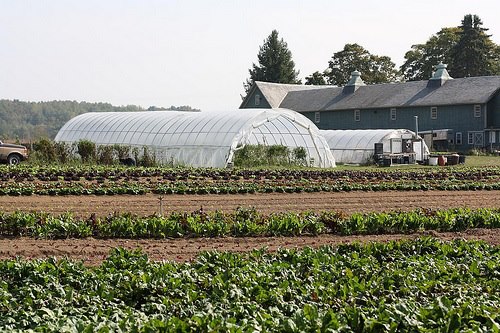 Hi Folks, We're having a heat wave! I always try to look on the bright side; I'd like to say that while the heat won't be good for some crops it will benefit others. The truth is that this much heat is not good for any living thing. Even heat loving crops like peppers, eggplant and melons shut down photosynthesis above 90 degrees.
Often plants won't set fruit after flowering during hot spells. The good news is that it is expected to break by the weekend, with next week's temperatures only in the low 80's. The long term forecast doesn't show anything in the 90's through mid-August (although they did not predict these temps 2 weeks back either). Hopefully once we get through this week we will be done with the worst!
We are making the transition this week from the cool weather crops of the spring and early summer to the warm weather types of midsummer and early fall. The peas are done, but we will have beans in their place. The beans are not plentiful yet and probably won't be for a few weeks, due to heavy rain right after sowing the first planting which caused poor germination, as well as the fact that they have been hammered by a pest called the Mexican bean beetle. The same heavy rains delayed the second planting such that it will not begin to yield for another 3 weeks or so. However, new additions for this week are eggplant and peppers. Tomatoes are just beginning to ripen, so I predict it will be 2 more weeks until we have them in sufficient quantities to ship.
Also on the horizon are melons and watermelons. We have our first onions of the season, 2 sweet varieties called Walla Walla and Ailsa Craig. We ship them with the tops on and you can use part of the neck as you would a scallion or to make soup stock. And we also have our first potatoes of the season, some lovely Red Norlands. Broccoli is still coming in, although the quality is beginning to slip. There will be broccoli for some groups who have not had it as many times as others. The main entry in the cabbage family category for this week will be cabbage (imagine that!).
The share for this week will be: Romaine lettuce, carrots, sweet onions, summer squash, cucumbers, green beans, eggplant, peppers, red potatoes, Swiss chard , parsley, choice of a 2nd herb (basil, savory, or marjoram) and green cabbage.
Enjoy! Farmer John