Farm News – August 13, 2015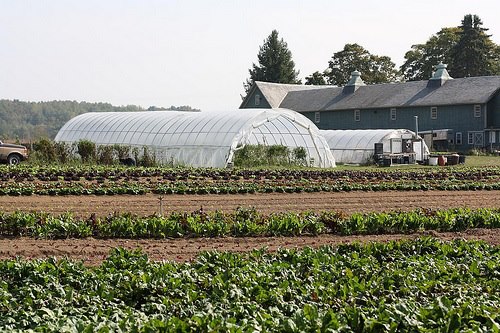 Hello Everyone!  The weather continues to be excellent for growing and for living. We are a little on the dry side but are hoping to catch some rain in the next couple of days. I am in the process of sowing many crops for the fall harvest, so I count on some precipitation to germinate the seeds.
I like to be creative in the way that I grow. I have many brilliant ideas and some work out, well, brilliantly. Others however are either disasters or require some tweaking.  The latter is the case with my idea to interplant lettuce with a brassica crop to provide some shade for the lettuce during the heat of August. The lettuce was set out a week or two after the brassicas and was completely overtopped by them, resulting in shading and poor growth. We won't have lettuce for a few weeks now, until the next planting begins to size up. Back to the drawing board!
We continue to wait with bated breath for the beans to become bountiful again. We still have some production from our heirloom pole beans- the Rattlesnake bean. So we will be sending small quantities in rotation among the groups over the next 2 weeks. After which we should have consistent production for the rest of the season until frost. The same is true of the summer squash; the second planting is just starting to produce.  We will send small amounts to some groups as supplies allow. Eggplant is coming in heavy, as are the tomatoes and the melons. We have celery for you this week. It may not be equal to the California celery that is blanched and pale. The inner stalks of our crop will be suitable for use in salads but the outer ones have a very strong flavor and are best used cooked in soups or stir-fries.
The share for this week will be: White onions, peppers, eggplant, red skinned potatoes, bok choy, choice of tatsoi or Swiss chard, celery, tomatoes, melons, choice of cherry tomatoes or ground cherries, rainbow carrots, and choice of an herb. For extras there are tomatillos, hot peppers, and okra.
The fruit share for this week will be peaches and nectarines.
Enjoy!    Farmer John