Morel-Stuffed Pattypan Squash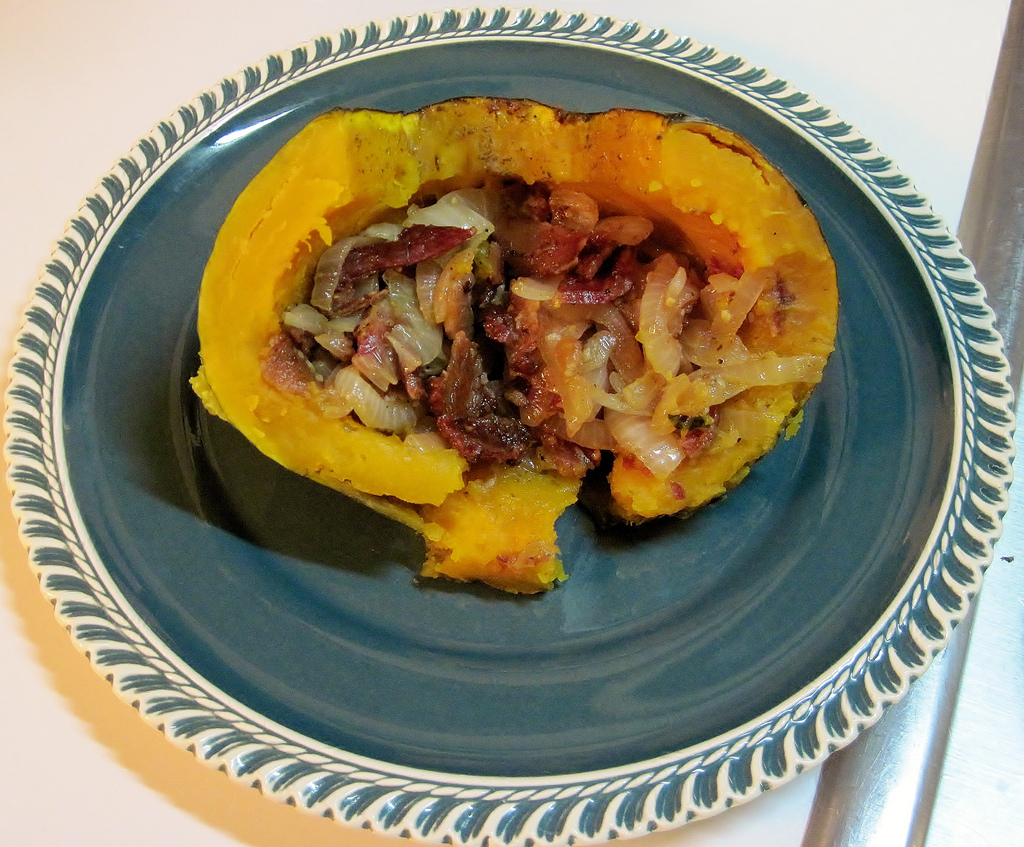 From the Simply Organic cookbook, this recipe serves 6. You can substitute mozzarella for cream cheese for a richer flavor, and use any mushrooms you have handy. Enjoy!
Ingredients:
6 medium pattypan squash
1 ½ cups vegetable or chicken broth
5 whole peppercorns
1 bay leaf
3 Tablespoons olive oil
½ red onion, finely chopped
4 oz. morel mushrooms, sliced
1 garlic clove, minced
½ cup chopped fresh basil
1 Tablespoon chopped fresh oregano
2 slices bread, torn into small pieces
1 large egg, beaten
4 oz. cream cheese, cut into small cubes
¼ cup grated Romano or Parmesan cheese (about 1 oz.)
Salt and freshly ground black pepper
Procedure:
Preheat oven to 375°F. Put squash in a large skillet and pour broth over the squash. Add peppercorns, bay leaf, and 1 tablespoon of the oil. Bring to a boil over high heat. Reduce heat to low, cover, and simmer for 10 to 15 minutes, or until squash are tender. Remove to a plate. Place a sieve over a medium bowl, strain the cooking liquid and set aside.
Heat the remaining 2 tablespoon soil in a skillet over medium-high heat. Add the onion and cook for 5 minutes or until soft. Add the mushrooms, garlic, basil, and oregano; transfer to a large bowl. Add the bread, egg, cream cheese, grated cheese; salt and pepper to taste. Moisten with ½ cup of the reserved cooking liquid.
When the squash are cool enough to handle, cut off the top quarter of each one. Using a spoon, remove and discard the seeds. Place the squash in a baking pan. Fill the cavities of the squash with the mushroom mixture, mounding it on top of the squash, if necessary.
Pour the remaining cooking liquid into pan. Bake for 20 minutes or until heated through.