Swiss Chard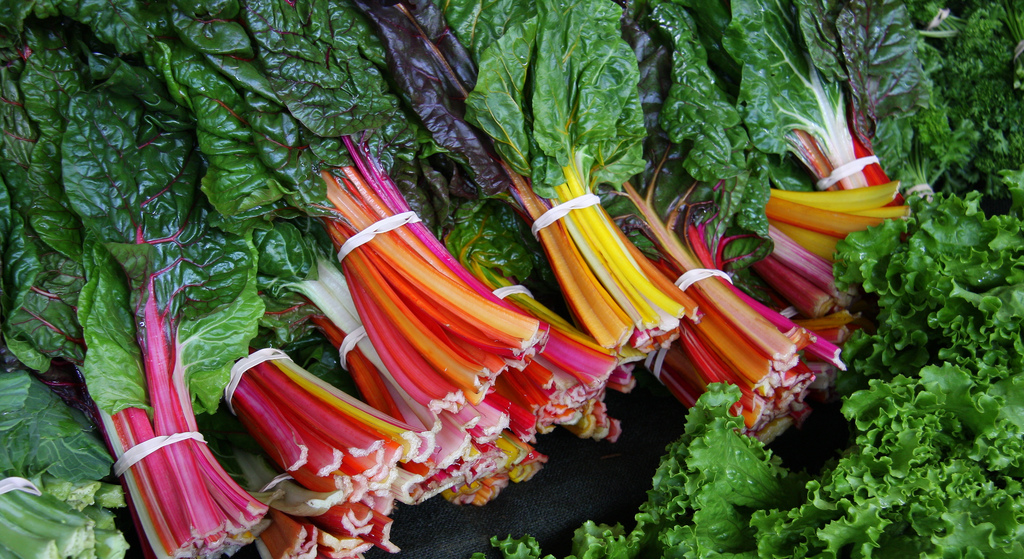 Swiss chard, along with kale, mustard greens, and collard greens, is one of several leafy, green vegetables often referred to as "greens."  It belongs to the same family as beets and spinach and shares a similar taste profile.  Chard is a tall, leafy vegetable with a thick, crunchy stalk (akin to celery but less stringy) that comes in white, red, or yellow, with wide, fan-like, ruffled leaves that are similar to spinach but chewier.  Regardless of the stalks' color, they have similar flavors and cooking properties, although the white stalks are most tender.  Very tender leaves can be added directly to green salads.
Swiss chard can be stored in a loosely sealed plastic bag in the refrigerator for about 3-5 days.  Before using, cut the leaves away from the stems; wash the leaves well, and rinse the stems, trimming blemishes or rust spots, if any.  Because the stems are tougher than the leaves, they will need a longer cooking time.  Cut the stems into 1-2 inch lengths, and boil or sauté them for about 8 minutes; if sautéing, use a small amount of olive oil and vegetable stock in your skillet. Add cleaned leaves either whole or cut into strips, after stems have been cooking for about 5 minutes. Cooked leaves may be chilled and dressed with a vinaigrette.  Raw stems and leaves can be added to soups just before they are finished.
Swiss chard is high in vitamins A, C, E and K, and is a good source of calcium, potassium, and fiber and is very low in calories.