Farm News – July 20, 2020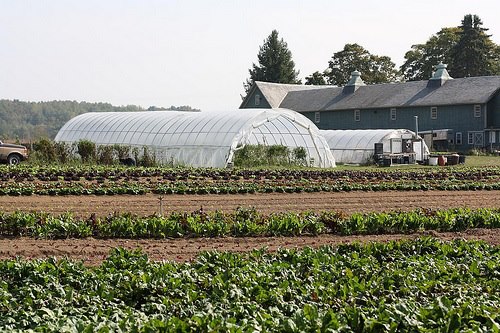 Hi Folks, I guess I do not need to tell you how hot and humid it is!  It's July in New Jersey!  We are once again waiting and hoping that some summer thunderstorms bring us some much-needed rain.  In the meantime, we are moving the sprinklers around and laying out old drip tape to trickle some water on a few crops and help the germination of recently seeded plantings.
Along with the ardors of mid-summer come some of the joys – those warm weather veggies.  The beans have begun, the peppers are popping, and the tomatoes are turning red.  We were working hard in April to get a jump on the tomato season, and it looks like it has paid off.  This is the earliest I can remember having enough tomatoes to put in the shares.  There are not a lot this week, but they will become more abundant every week.
We also have some cauliflower heading up; they are not very large, but the quality is good.  All the brassica crops require a lot of water and most of them abhor the heat almost as much as I do. Most of the farmers I know have given up even trying to grow broccoli and cauliflower from a spring planting – there are just too many challenges.  I love to eat both, and I know that many of you do as well.  Perhaps I like a challenge or maybe I am just too stubborn to give up.
We still have some broccoli coming in and will rotate over the next couple of weeks with the cauliflower and kale.  Greens in general are scarce right now and we will not have lettuce for the next few weeks. We have some fresh sweet onions for you this week.  These are less pungent than the regular onions and they are not good keepers- use them quickly!
The share for this week will be: Swiss chard, broccoli or cauliflower, summer squash, cukes, eggplant, peppers, tomatoes, beets, sweet onions, beans (green, wax or haricot vert), and basil.
The fruit share for this week will be:  black plums and peaches.
Enjoy!  Farmer John