Pasta with Broccoli and Garlic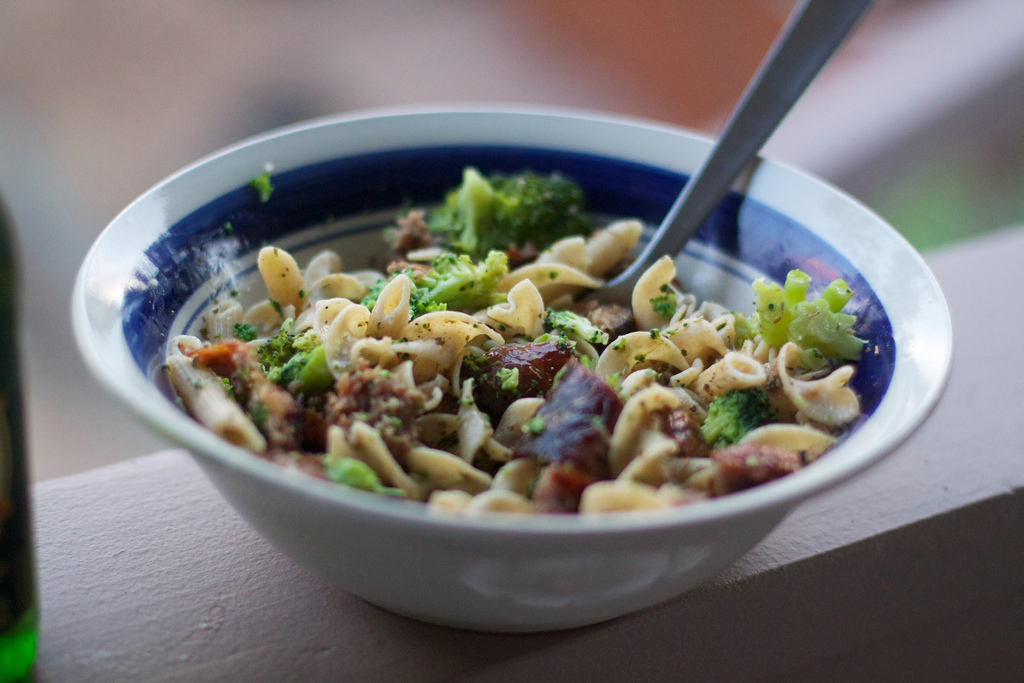 This southern Italian dish works great as a side dish or vegetarian main entrée.  You can double or half the recipe if we receive more or less broccoli in any given week.  Recipe adapted from Joy of Cooking.
Ingredients:
1 lb pasta
2 lb broccoli
1 jar pitted Kalamata olives
3 Tablespoons olive oil
2 cloves garlic (or scapes)
red pepper flakes to taste
1 cup stock or white wine
Parmesan cheese to taste
Procedure:
In large pot, cook 1lb of your favorite pasta.  Drain and place in a large bowl.
Meanwhile, remove florets from 2 lb broccoli.  Rough chop florets.  Peel and dice the stems.  Steam or boil all parts until barely tender, then drain.  (Stems take longer than florets)
Drain and rough chop 1 jar pitted Kalamata olives and set aside.
Heat 3 Tbsp olive oil in large skillet over medium heat.  Add 2 cloves garlic, thinly sliced or chopped.  Add 2 pinches red pepper flake (cut this by half or more if you are sensitive to spice or cooking for kids).  Cook 2-3 minutes until aromas are released.
Add the broccoli.  Add 1 cup stock or white wine to create sauce for the pasta. (If broccoli seems dry, add more stock.  You want to have enough liquid to coat the pasta.)  Add olives.  Cook until broccoli is heated through and tender, 3-4 minutes.
Season with salt and pepper to taste.  Note: It may not need any since olives are generally salty and red pepper flakes are hot.  Taste the dish first!
Add mixture to bowl with pasta.  Toss with fresh grated Parmesan or pecorino cheese to taste.  Serve immediately!