Pasta with Peas, Prosciutto, and Lettuce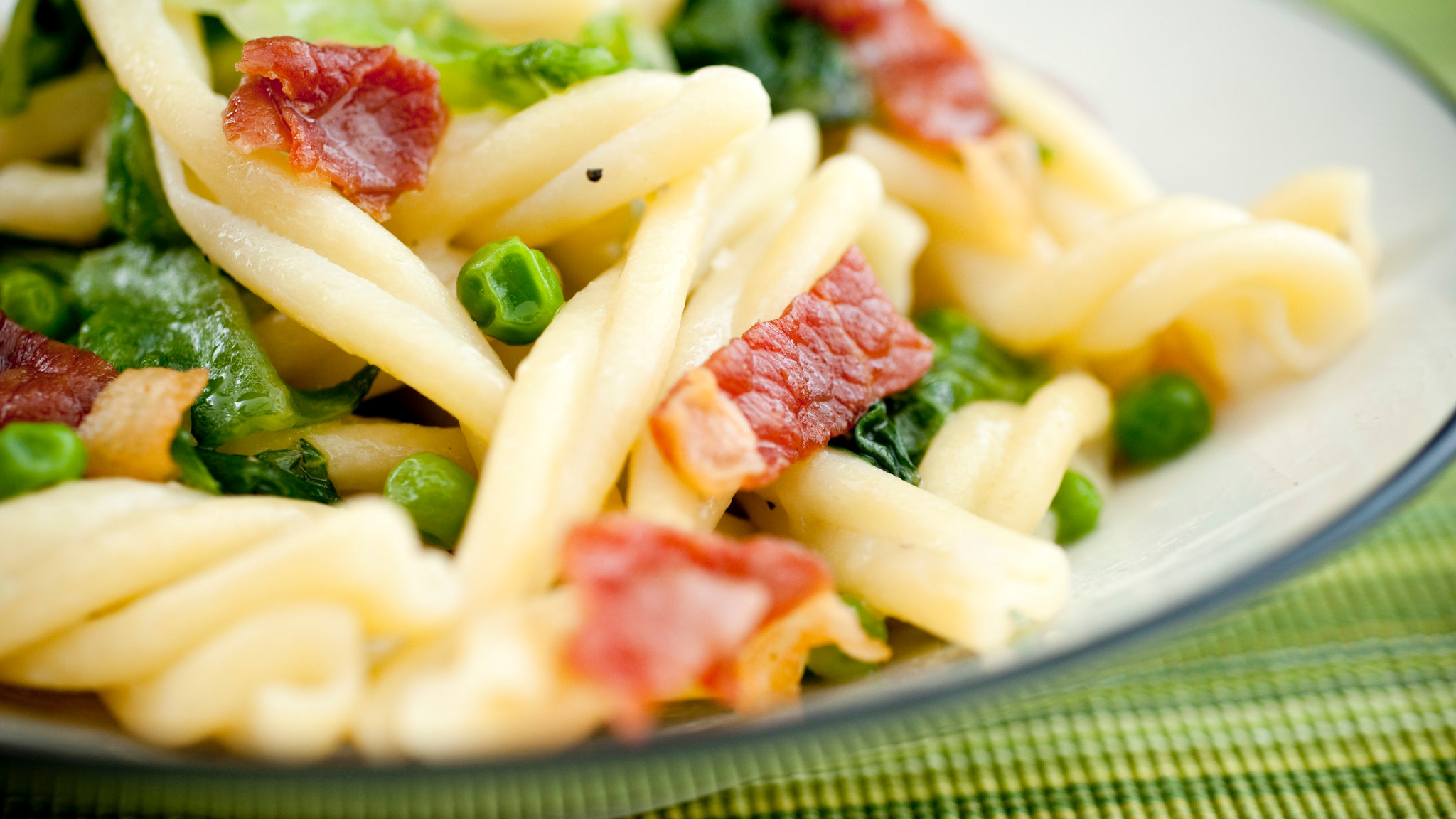 This recipe appeared in the New York Times by one of our favorite chefs, Mark Bittman. The recipe comes together in less than 30 minutes; be mindful not to overcook the lettuce so that it retains its sweetness. Try using Swiss chard (leaves only) and a leek in lieu of the shallot and lettuce. Vegetarians can omit the prosciutto. The recipe serves 4.
Ingredients:
Salt
3 Tablespoons olive oil
2-3 oz. thinly sliced prosciutto, cut crosswise into ½ inch wide strips
1 lb pasta
2 Tablespoons butter
1 shallot, minced
Black pepper to taste
2 cups peas, fresh or frozen
1 head Bibb or Boston lettuce (about 6 oz), cored, leaves cut into ¾ inch slices
½ cup chicken or vegetable stock, or dry white wine, more as needed
1 cup finely grated Parmesan cheese
Procedure:
Bring a large pot of water to boil and salt it.  Meanwhile, put 1 tablespoon oil in a small skillet over medium-high heat.  When hot, add prosciutto, turning occasionally, until crisp, about 4-5 minutes; set aside. (You can also use pre-diced prosciutto from the grocery store.)
When water boils, add pasta and cook until just tender; drain pasta, reserving some cooking liquid.  Meanwhile, melt butter and remaining 2 tablespoons oil in a large skillet over medium heat.  Add shallots and sprinkle with salt and pepper; cook until shallots begin to soften, about 5 minutes.
Add peas, lettuce and stock or wine to skillet and cook until peas turn bright green and lettuce is wilted, about 5 minutes.  Add pasta to pan and continue cooking and stirring until everything is just heated through, adding extra stock or some reserved cooking liquid if needed to moisten.  Toss with Parmesan cheese, garnish with crispy prosciutto, adjust seasoning to taste, and serve!