Pasta Sauce with Cabbage and Sausage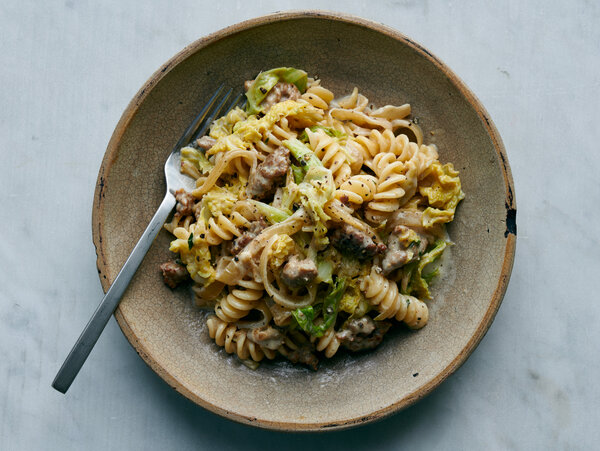 A few years ago, my share partner and I took a cooking class at Classic Thyme, focused on pasta sauces.  This one is an unusual sauce, hailing from northern Italy, close to the Austrian border.  It is very easy and so delicious, plus, if you make a lot, you can freeze extras for later use.  The recipe as presented serves 6.
Ingredients:
⅓ cup olive oil
1½ pounds sweet Italian sausage, crumbled
2 large white onions, slivered
2 garlic cloves, minced
1¼ pound Savoy/green cabbage, coarsely shredded and blanched
1 cups light chicken broth
Salt and fresh ground pepper
1 lb. Asiago cheese, grated
Procedure:
Heat oil in a large Dutch oven or skillet; when oil is hot, add sausage and cook until well browned all over. Remove from pan with a slotted spoon into a medium sized bowl, and set aside.
Add onions to the pan, and cook over medium- high heat until onions are tender and golden, about 10 minutes; add garlic and stir to incorporate with onions, about 2 minutes. Add blanched cabbage, cooked sausage and broth; stir to combine. Cook covered until cabbage is tender and flavors have married, about 30-40 minutes. Season with salt and pepper.
Serve preferably with whole wheat pasta, such as rigatoni or any ribbon pasta (linguine, spaghetti), and grated Asiago cheese. Yummy!!!