Grilled Veggies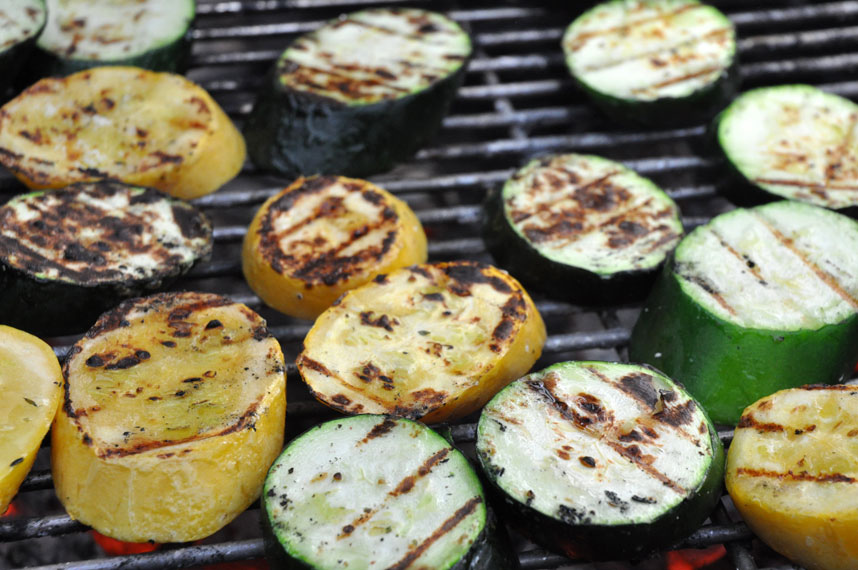 In this sweltering heat, if the thought of standing over your stove sautéing, steaming or baking any of your veggies makes you want to head to the nearest fast food or take-out counter, consider grilling at least some of your vegetables.  In the time it takes to grill some hot dogs or a steak, you can have wonderful, tasty treats.
Most vegetables work well on the grill, especially "hard" ones like summer squash, eggplant, or peppers, sliced into strips or rounds between ⅛ to ¼ inch thick.  But "soft," leafy ones, like spinach, lettuce, and swiss chard work just as well.  While the technique differs a bit, either way it takes but a few minutes to prep the veggies.  First, wash them thoroughly and dry as well as possible.
For hard veggies, slice and place in a large enough pan or dish, adding a sprinkle of salt and fresh ground pepper; drizzle with olive or canola oil and mix to coat with your fingers.  Allow to sit about 15 minutes, then place on grill (medium direct), turning once after about 5-6 minutes.  Remove from grill.
For soft, leafy greens, try grilling them between two sheets of aluminum foil. Take a 12-18 inch piece of foil, lay it on your counter, add oil or spray with Pam. Then mound your washed and slightly dried greens (I did this with spinach last week) on the prepped foil, add salt, fresh ground pepper, garlic powder, and drizzle with olive oil.  Take a second sheet of foil, lay it over your greens, and make a "pouch" by crimping top and bottom foil ends together.  Place on the grill, medium indirect, for about 10 minutes.  Be careful when opening the pouch as steam will have built up; you might want to puncture the pouch before removing from the grill.
The tastes are amazingly good and if there are any leftovers, they make for delicious veggie sandwiches!  Try it and stay cool.