Southern-Style Green Beans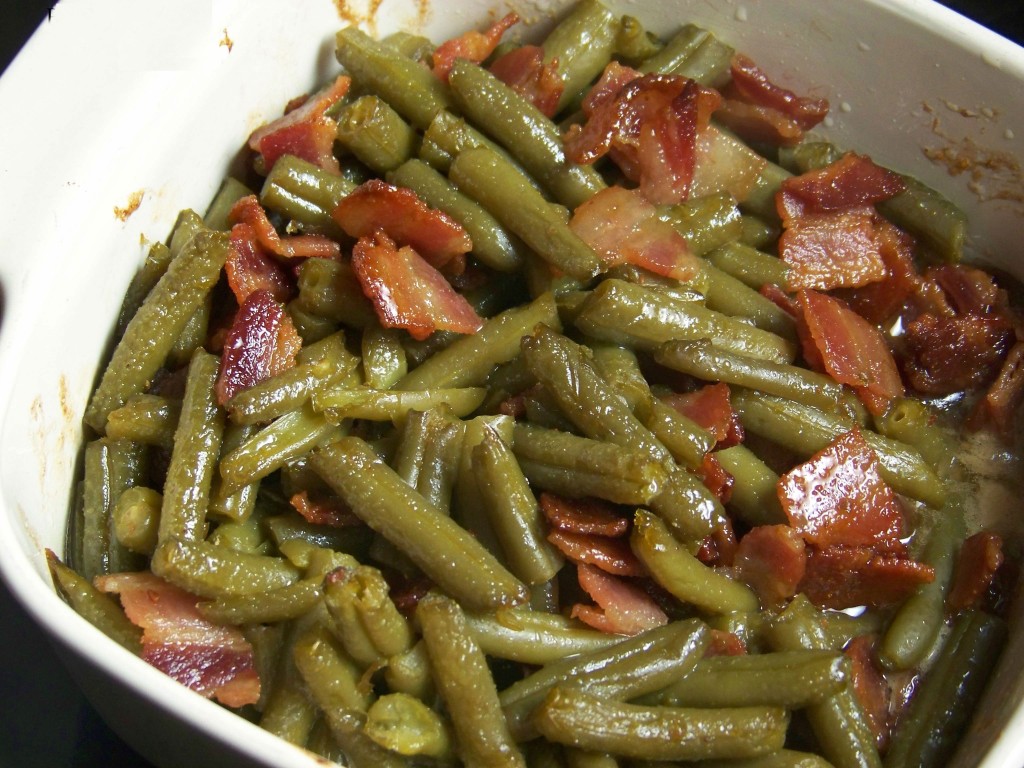 These Southern-style green beans, found on the Spicy Southern Kitchen food blog, are flavored with lots of bacon, and cooked long and slow until they're melt-in-your-mouth tender. You'll want to cook them for at least an hour, preferably closer to 2 hours, to get them really soft, but not mushy.  Just before serving, you can mix in a Tablespoon or so of butter to give the green beans a buttery coating.  Serves 6.
Ingredients:
4 slices bacon, diced
2 pounds green beans ends snapped off and longer beans snapped in half
2 cups chicken broth
2 cups water
1 teaspoon seasoned salt
½ teaspoon black pepper
½ teaspoon garlic powder
¼ teaspoon red pepper flakes
1 Tablespoon butter, optional
Procedure:
Brown and crisp bacon in a large pot.  Remove bacon from pot and reserve.
Add green beans to pot along with all remaining ingredients, except butter.
Bring to a boil and then turn heat to medium-low.  Cover and simmer for 1-2 hours, stirring occasionally.
Drain beans and add butter if using.  Check beans for seasoning and add extra salt and pepper to taste.  Sprinkle with bacon and toss to distribute the bacon and butter.