Harvest Stuffed Acorn Squash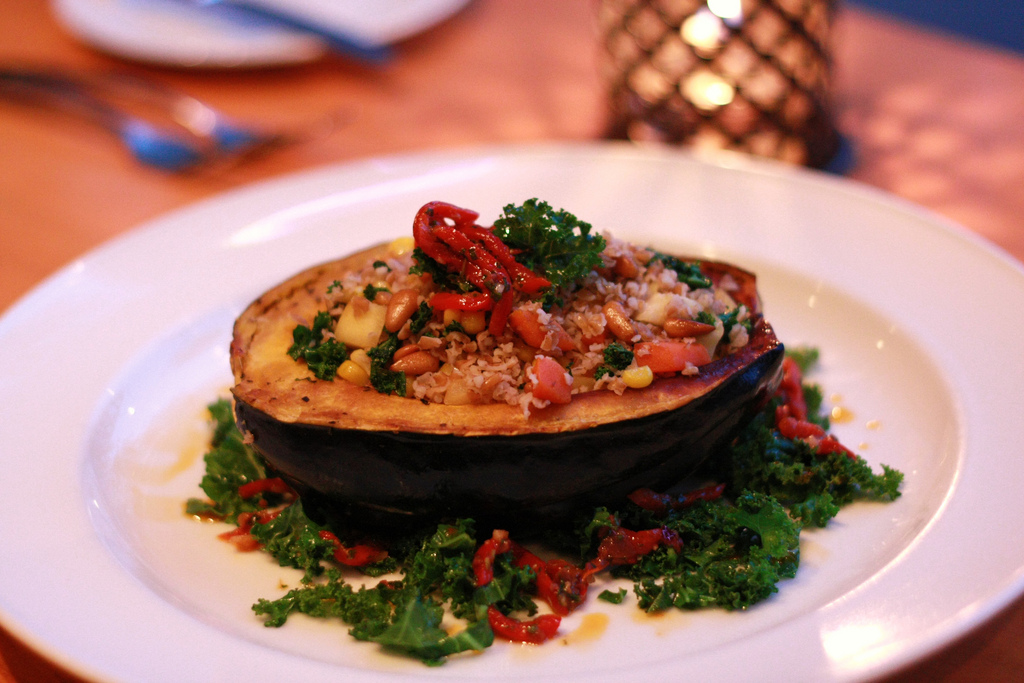 From the cookbook, Cooking Close to Home, here is a colorful recipe that is simple to make. The recipe serves 4. Enjoy!
Ingredients:
2 acorn squash, cut in half and center cleaned out
¾ cup apple cider
2 Tablespoons butter
1 cup chopped onion
2 Tablespoons chopped fresh garlic
⅔ cup chopped red bell pepper
1 cup chopped fresh mushroom, any local variety
1 cup chopped apple
2 cups loosely chopped kale
1 cup cooked rice (short grain)
¼ teaspoon salt
¼ teaspoon fresh ground black pepper
Procedure:
Preheat oven to 350°F degrees. Place the squash in a casserole dish, cut side facing up. Pour the cider evenly into the 4 squash halves, and cover the pan. Bake for 1 hour or until the squash is fully cooked.
About 15 minutes before the squash is ready, begin preparing the filling. Using a large sauté pan, heat the butter over medium heat. Add the onion and garlic, and sauté for about 3 minutes.
Add the red bell pepper, mushrooms and apple to the pan and cook for another 2 minutes.
Add the kale, cooked rice, salt and pepper and cook until the rice is thoroughly heated and the filling is completely mixed.
Remove the squash from the oven and discard any remaining cider. Divide the filling into the 4 squash halves and serve.