Sheet-Pan Kielbasa With Cabbage and Beans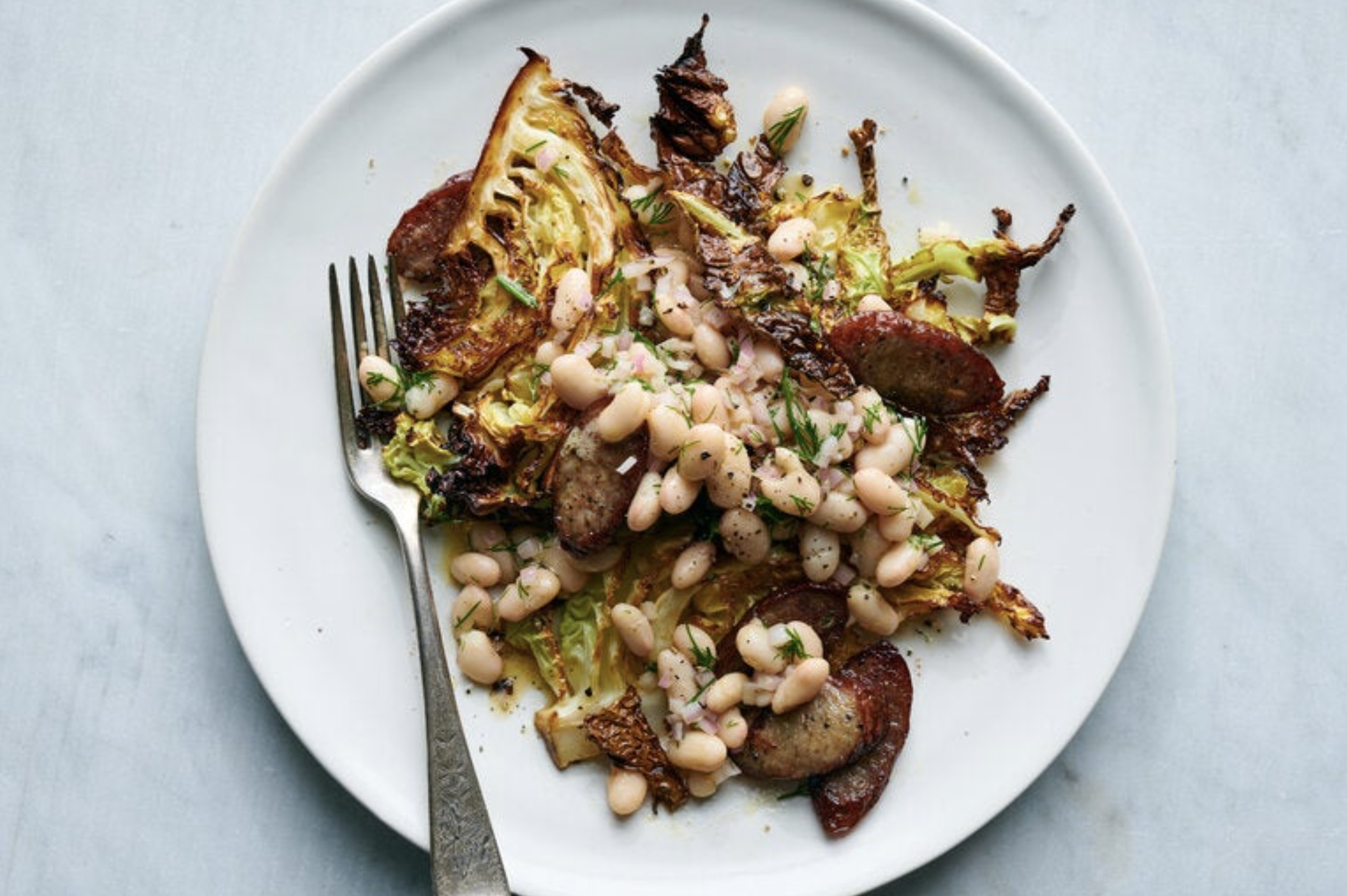 Here's a recipe from New York Times Cooking for a quick sheet-pan dinner of roasted kielbasa, caramelized cabbage and white beans marinated in a dill-and-red wine vinaigrette, that comes together in about a half-hour.  It's a great way to use up extra cabbage!  Serves 4.
Ingredients:
1 medium Savoy cabbage (2 to 2½ pounds), cut through the root into 1-inch-thick wedges
¼ cup extra-virgin olive oil, plus more for tossing the cabbage
Kosher salt (such as Diamond Crystal) and black pepper
8 ounces to 1 pound smoked kielbasa, diagonally sliced ¼-inch thick
¼ cup red wine vinegar
¼ cup finely chopped fresh dill
1 shallot, finely chopped
4 teaspoons Dijon mustard
1 (14-ounce) can white beans, such as great Northern or cannellini, drained and rinsed
Procedure:
Heat oven to 450°F.  Add the cabbage to a rimmed baking sheet and toss with olive oil, salt and pepper to coat.  Arrange in an even layer, then scatter the kielbasa on top. Roast without flipping until cabbage is tender and charred in spots and the kielbasa is deeply golden, 25 to 30 minutes.
Meanwhile, in a medium bowl, stir together ¼ cup olive oil with the vinegar, dill, shallot, mustard, 2 teaspoons salt and a few grinds of pepper. Add the beans and stir to combine.
Divide the cabbage and sausage among plates and spoon the beans and vinaigrette on top.