Farm News- August 6, 2009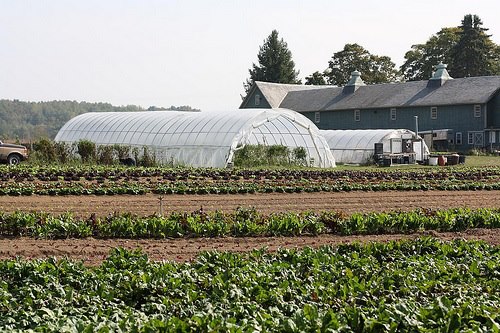 Hello Folks,
I am once again late in writing the update, and for that I apologize to those who are waiting to know what they will receive this week.
All I can say is that I am a bit overwhelmed at the moment trying to keep up with so many battles on so many fronts.
We have just passed another wet spell with almost 4" of rain falling during the past week. This has created various problems such as not being able to harvest potatoes with my mechanical digger, and setting me back on my planting of fall crops.
And yet I count myself lucky that it has been only rain. In the nearby Borough of Andover roofs were ripped off building by a mini tornado and an orchard close by suffered extensive damage from hail. I also heard on the radio of a farm that was almost completely destroyed by a tornado.
We are once again in the position of having to harvest thousands of heads of lettuce or lose them. Both of my coolers are already completely full, so I have no more space to store anything. For this reason we will be shipping 2 heads of lettuce in the share this week. I hope you're in the mood for lots of salads!
We are sending red onions this week and this particular crop was damaged by the hailstorm in June. Because of the torn leaves, water was able to enter and has caused some to have a single rotten layer inside. It is all but impossible to tell which ones have this condition and generally the rest of the onion is fine. I apologize and ask your indulgence in this regard if you receive some of these.
We harvested most of the onions from the other farm this past week and they are hanging to dry. Since there was no hail at this location they look good, so I expect the onions later in the season will not have this problem.
The share for this week will be:
Romaine lettuce, red leaf lettuce, carrots, green peppers, white potatoes, red onions, string beans, and choice of parsley or basil.
Enjoy,
Farmer John