Celeriac-Parsnip Latkes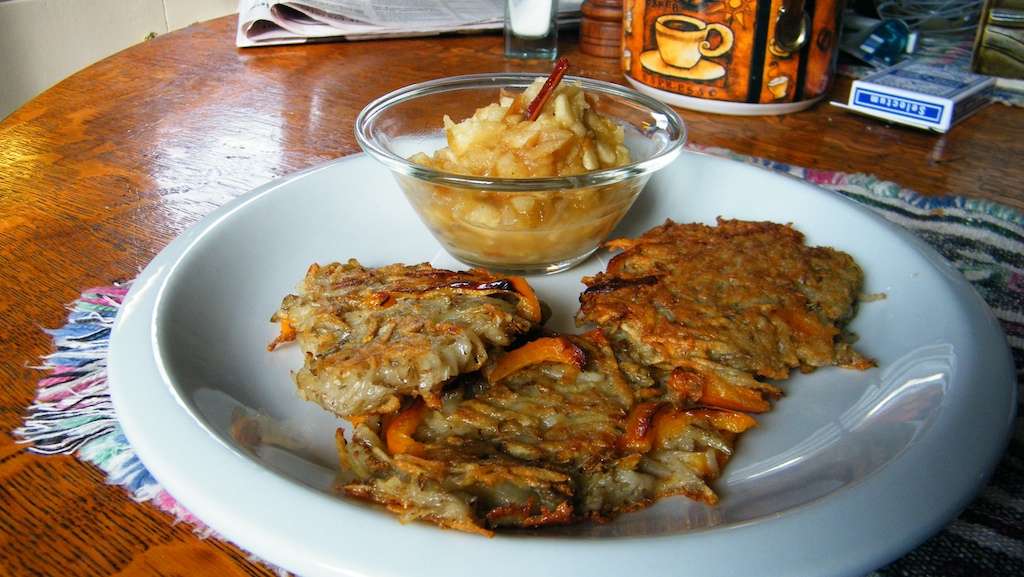 Adapted by Melissa Clark of the NY Times last December (link) from The Mile End Cookbook by Noah and Rae Bernamoff, this recipe makes about 4 dozen latkes. With the Holidays just around the corner, there is no reason to swap the celeriac now (Hint: celeriac keeps for months if you can store between 30 and 40 degrees and don't allow them to dry out)!
Ingredients:
1 lb celery root, peeled and grated
1 lb parsnips, peeled and grated
1 medium onion, peeled and grated
1 ¼ cup matzo meal
¾ cup chopped Italian parsley
5 large eggs
1 tablespoon Kosher salt, more for serving
¾ teaspoon cracked black pepper
Safflower oil
Procedure:
Place grated celery root, parsnips, and onion in a large bowl. Sprinkle with matzo meal and toss mixture together with your hands. Add parsley, eggs, salt and pepper and combine again using your hands until ingredients are incorporated.
Heat 2 tablespoons oil in a large sauté pan over medium-high heat. Take a heaping tablespoon of the mixture and flatten between your palms. Fry latkes, without moving them, for 4-5 minutes, checking that they don't over-brown. (You should be able to fry them in batches of 11 or 12, depending on pan size.) Flip latkes, turn heat down to medium-low and fry another 4 minutes, or until well browned and tender.
Transfer to a baking sheet lined with paper towels. Sprinkle with additional salt. Serve warm.