Farm News – October 3, 2013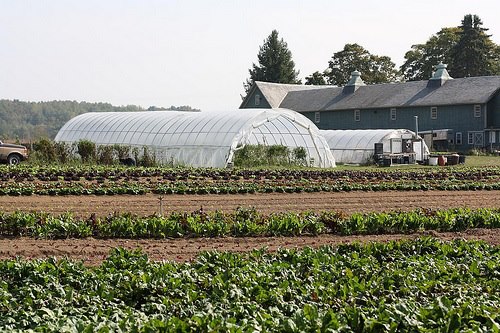 Hi Everyone, Cool and dry about sums up the prevailing weather conditions here on the farm. We have already had 2 light frosts, but they were very light and spotty and haven't done much damage. I am hopeful we will get a couple more weeks before a more damaging frost occurs. We are busy again moving the sprinklers around the fields beginning with the final plantings of herbs and spinach so they will germinate.
The broccoli and cauliflower crop looks fantastic but these plants require abundant moisture, so they will be the next to require the benefit of overhead irrigation. I expect heavy broccoli production to begin by the end of the week and then continue through most of the season.
We have some red cabbage, but not enough for all members from this planting due to poor germination in the greenhouse. Tuesday and Wednesday groups will receive cabbage this week and those who get broccoli will receive their red cabbage in a few weeks when another planting matures.
Bean harvest is light at the moment as we wait for the final planting to size up. There will be smaller quantities of string beans this week and some groups may get edamame soybeans in lieu of beans.
We should be able to provide a few more tomatoes this week, although I don't expect they will be as pretty or as flavorful as they were earlier in the season.
We will begin harvesting the sweet potatoes this week but will wait until next week to include them in the shares. In this way we can put them through the curing process which improves both the flavor and the storage qualities. Greens will continue to be abundant; we still have a fair amount of spinach which we will offer as a choice with Swiss chard.
The share for this week will be: Red Boston or romaine lettuce, salad turnips, peppers, tomatoes, choice of spinach or chard, kale, yellow potatoes, choice of arugula or tatsoi, leeks, choice of escarole or endive, spaghetti squash, and either red cabbage or broccoli.
There will be various "extras" such as some small beets, basil, and possibly eggplant. We continue to send small amount of summer squash in rotation among the various groups.
Enjoy! Farmer John