Offer for Vermont Maple Syrup and Honey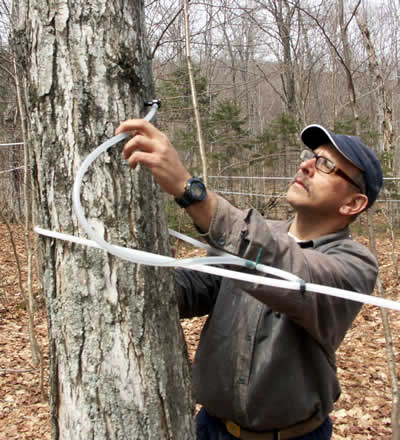 In cooperation with John's Millburn CSA pick up,  the Farm and Fork Society, we are offering the opportunity to purchase maple syrup products and honey from Vermont.  Below is some information on the farmer.  You can also visit his website for more info http://vermontpuremaplesyrup.com/.
Born in New Jersey, Joey Russo became interested in maple sugaring at 13 years old when his parents purchased a retirement home in Delaware County New York. He received a bachelors degree in Food Industry from Delaware Valley College of Science and Agriculture in Pennsylvania, He also studied at the Culinary Institute of America in New York and received an A.O.S. degree in Culinary Arts. Shortly after Russo began is professional career he purchased a large sugaring operation in Lamoille County Vermont in the Town of Belvidere. Using his food engineering background, he devised an evaporating system using high pressure steam. The system is refined year after year and makes a beautiful flavored pure Vermont maple syrup at the Green Mountain Maple Sugar Refining Company. In addition, Russo has recently purchase property on Lake Champlain where he makes the finest pure honey.
An order form is attached.  If you are interested in purchasing any of the products offered, please fill out the form and send it along with payment to Melissa in Short Hills (address on the form).  If you have any questions, please contact Melissa directly at farmandforksociety@gmail.com.
There is a FIRM deadline.  All orders must be received by Melissa by June 20.  Products will be available during our July 10 pick up.