Circle Brook Farm End of 2016 Season "Stock Up"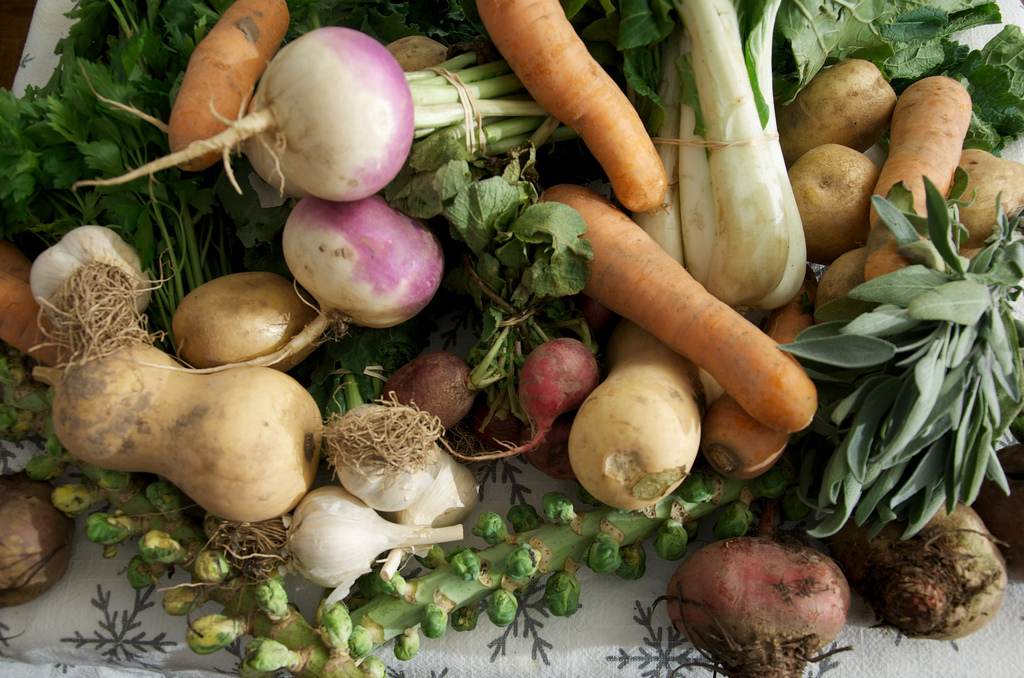 We will be offering one additional share to be delivered during the week of November 20th (Thanksgiving week). This will be a "stock up" share and will include various vegetables that store well, so that you will be able to enjoy produce from the farm well into the winter months as well as provide veggies for your Thanksgiving feast. The delivery will be one day earlier than your normal pickup day. Friday groups will receive their stock up share along with their final regular share on the Friday before Thanksgiving.
The total weight of this share will be about 60 lbs. Approximately a third of the share will be winter squash- butternut, acorn, spaghetti, buttercup (kabocha), delicata, and sweet dumpling squash. The share will also include an assortment of root vegetables such as carrots, beets, parsnips, turnips, rutabaga, celery root and radishes. This year we will also be including Jerusalem artichokes aka sunchokes and another tuberous member of the sunflower family- yacon (pronounced jacone). It is sweet and juicy with a light orange color (carotene) and is similar to jicama. It can be grated raw into salads or cooked in stir fries for a water chestnut like crunch. The root crops will comprise about 15 lbs. of the share. There will also be about 15 lbs. of potatoes, onions and garlic in the share. The potatoes will include some fingerlings and an assortment of other varieties of potatoes. Also included will be green and red cabbage, and whatever greens we still have in the field at this time, such as arugula, broccoli raab or other mustard greens, kale, lettuce and spinach. It is probable that there will be broccoli and/or cauliflower and there will certainly be Brussels sprouts. The cost of this final share will be $90, which is an excellent value, equivalent to a wholesale price for much of the produce included.
The potatoes, onions and squash can be stored in a cool dry place such as an attached garage or enclosed porch, where they will not freeze. The root vegetables and cabbage will best be stored in your refrigerator. I know that this final share will not work for everyone, but I hope that many of you will be able to participate. Doing so will help us to make use of the produce that we have in storage, utilize what remains in the fields, and finish the season with enough money in the bank to pay the bills during the winter months.
Farmer John
See below for a picture of a Circle Brook CSA "stock up" share – each year is a bit different!