Cornmeal Crusted Cod with Garlicky Tatsoi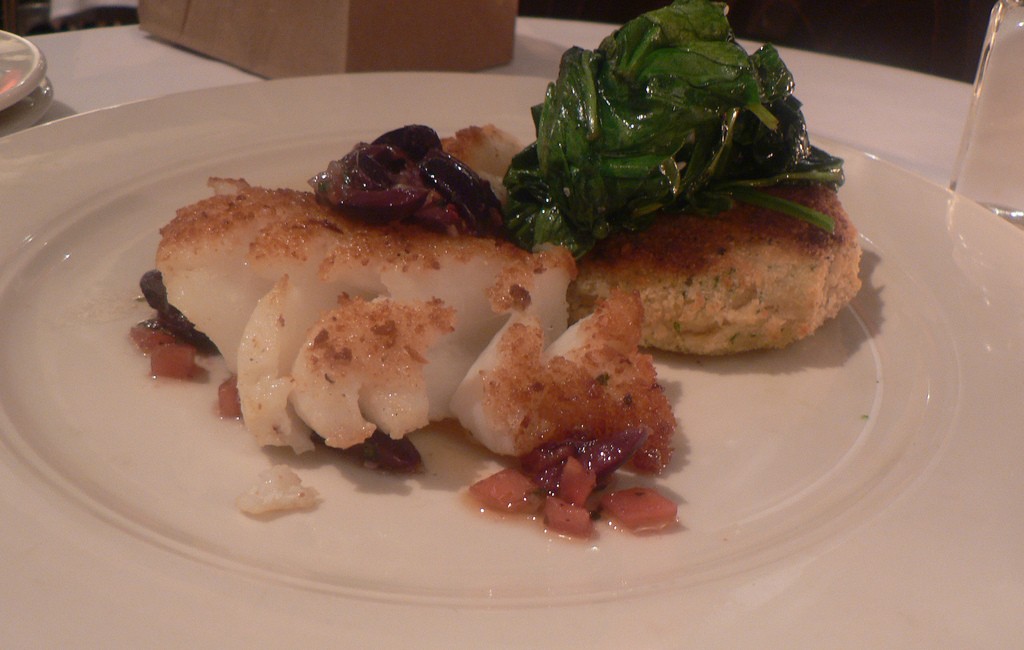 Here's another recipe from "Simply Organic."  Although the recipe calls for tatsoi, any of the greens that we get in our shares would work well in this recipe. Serves 4.
Ingredients
4 cod or scrod fillets (about 4 oz each)
1½ Cups buttermilk
1 Cups cornmeal
3 Tbsp chopped fresh Italian parsley
1 Tbsp dried oregano
2 tsp dried thyme
1½ tsp salt
½ tsp freshly ground black pepper
¼ – 1 tsp cayenne pepper
4 Tbsp olive oil
2 garlic cloves, crushed
1½ lbs tatsoi, steamed lightly
Juice and zest of 1 lemon
1 Tbsp soy sauce
Procedure

The night before serving, put the fillets in a bowl and pour buttermilk over all. Toss to coat. Cover and refrigerate.
Preheat oven to 250°F. In a pie plate, combine the cornmeal, parsley, oregano, thyme, salt, black pepper, and cayenne pepper. Remove the fish from the buttermilk, shaking off any excess. Dip the fish in the cornmeal mixture, turning to coat completely.
Heat 1½ Tbsp of oil in a large skillet over medium heat. Add 2 fillets and cook for 8 to 10 minutes, turning once, or until browned and the fish flakes easily. Place on a baking sheet and keep warm in the oven. Repeat with 1½ Tbsp more oil and remaining 2 fillets.
Wipe the skillet clean and heat the remaining 1 Tbsp oil over medium heat. Add the garlic and cook for 2 minutes. Add the tatsoi, lemon juice, and soy sauce and cook for 3 minutes or until heated through. Transfer to a serving platter and top with the fillets. Sprinkle with lemon zest.