Grilled Eggplant, Tomatoes, and Goat Cheese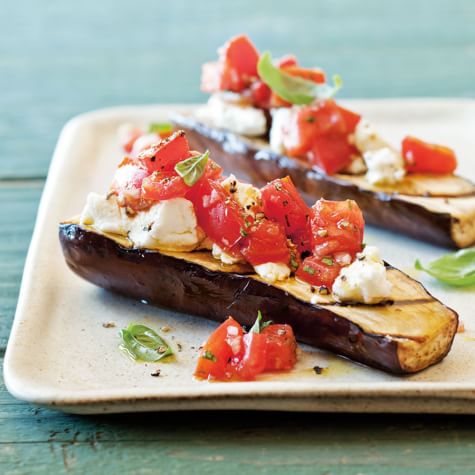 From the Williams-Sonoma website, here is an easy and delicious way to prepare eggplant.  Inspired by lasagna, this fresh dish takes advantage of summer's ripe heirloom tomatoes and abundant eggplant. Cooked on the grill, it makes a great accompaniment to burgers and grilled meats at a summer cookout, but, served with herbed couscous or polenta, it also makes a great vegetarian meal.  Serves 4 (1 eggplant per person).

Ingredients:
6 Tbsp extra-virgin olive oil
¼ cup (⅓ oz/10 g) minced fresh basil
¼ cup (1 oz/30 g) minced shallots
2 Tbsp balsamic vinegar
10 oz (315 g) heirloom tomatoes, cored and chopped (about 1½ cups / 280 g)
Kosher salt and freshly ground pepper
4 small, slender Italian eggplants (about 8 oz / 250 g each)
3 oz (90 g) fresh goat cheese, crumbled (about ¾ cup)
Procedure:
In a small bowl, combine the olive oil, basil, shallots and vinegar. In another small bowl, mix the chopped tomatoes and 2 Tbsp of the oil mixture. Season the tomatoes to taste with salt and pepper.
Trim the rounded part off 2 opposite long sides of each eggplant. Cut the eggplants lengthwise in half and place on a small oiled baking sheet. Brush both sides with the oil mixture and sprinkle lightly with salt and pepper.
Prepare a hot fire in a grill.
Place the eggplant on the grill over direct heat. Cover the grill and cook until the eggplant is tender, about 8 minutes per side. Return the eggplant to the baking sheet. Divide the cheese among the eggplant halves. Place the baking sheet on the grill, cover and cook until the cheese begins to soften, about 3 minutes.
Using a metal spatula, carefully transfer the topped eggplant to warmed plates. Spoon the tomato mixture over each and serve immediately.