Moroccan Spiced Spaghetti Squash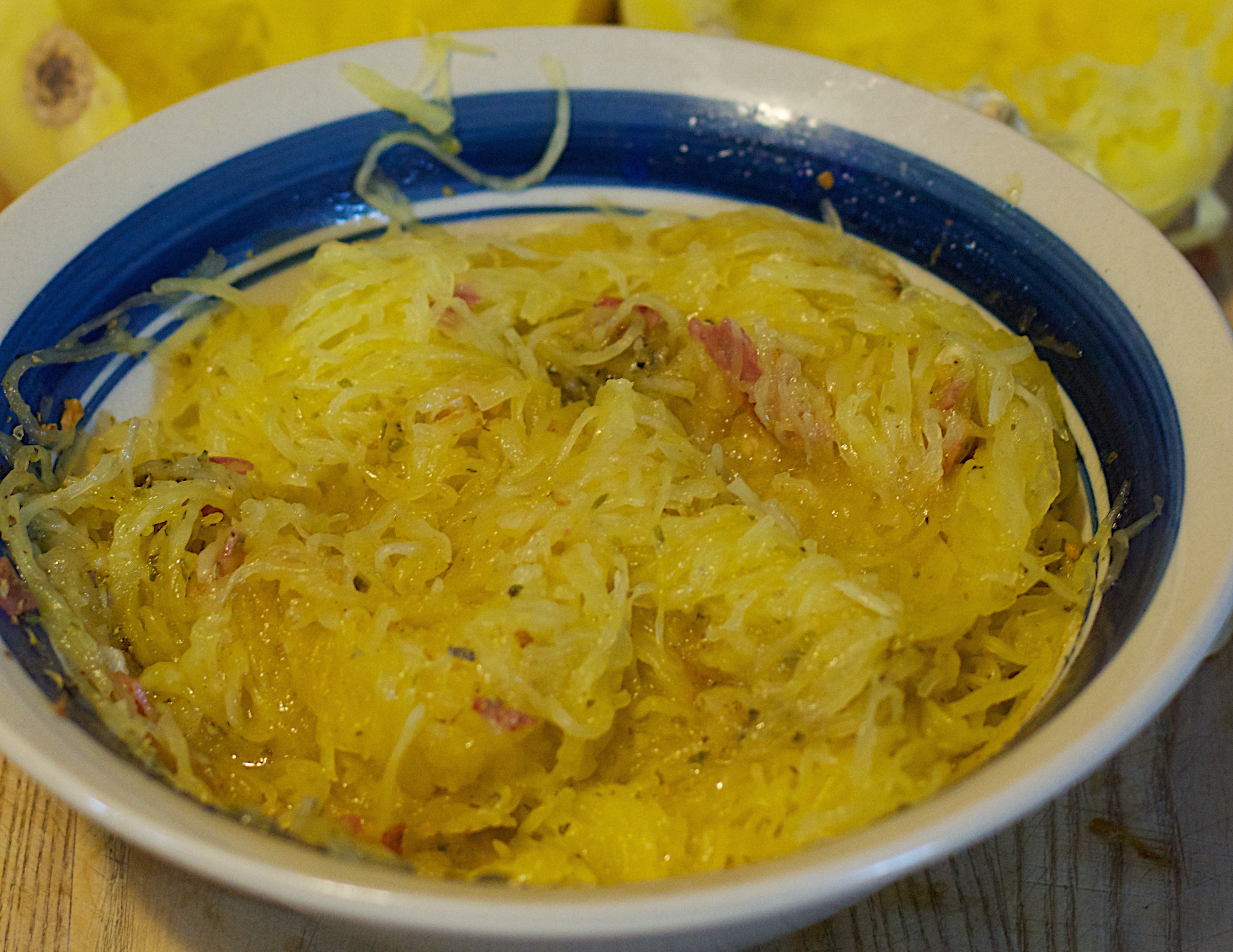 This recipe is from the excellent smittenkitchen.com food blog.  We provide instructions to either microwave the squash quickly, or roast it in the oven – your choice! This works great as a side or as a main dish with couscous and some sautéed greens. Serves 4.
Ingredients:
1 (3½- to 4-pound) spaghetti squash
4 Tablespoons unsalted butter, cut into pieces
2 garlic cloves, minced
1 teaspoon ground cumin
½ teaspoon ground coriander
⅛ teaspoon cayenne
¾ teaspoon salt
2 Tablespoons chopped fresh cilantro (or flat-leaf parsley, if you're cilantro-averse)
Procedure:
If cooking the squash in a microwave: Pierce squash (about an inch deep) all over with a small sharp knife to prevent bursting. Cook in an 800-watt microwave oven on high power (100 percent) for 6 to 7 minutes. Turn squash over and microwave until squash feels slightly soft when pressed, 8 to 10 minutes more. Cool squash for 5 minutes.
If roasting the squash in the oven – either roast whole or cut in half:  If roasting the squash whole, pierce it all over with a small sharp knife to prevent bursting, and bake it in a 375°F oven for one hour. If you are good with a big, sharp knife, you can save some time by cutting the squash in half lengthwise, scooping out the seeds and roasting the halves face-down in an oiled baking pan for about 40 minutes in a 375°F oven.
Meanwhile, melt the butter in a small saucepan over medium heat. Add the garlic and cook, stirring, until it is barely golden. Stir in spices and salt and remove from heat.
If you have microwaved or roasted your squash whole, carefully halve it lengthwise (it will give off a lot of steam) and remove the seeds. Working over a bowl, scrape squash flesh with a fork, loosening and separating strands as you remove it from skin.
Toss with the spiced butter and cilantro and serve.