White Bean and Kale Stuffed Delicata Squash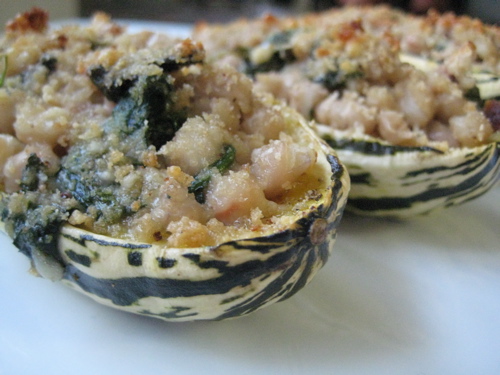 From the website, www.cooklocal.com, this easy recipe serves 4 (or 2 if you are really hungry!).  You can readily add some pancetta or bulk sausage to the stuffing for a non-vegetarian meal.  Cook the meat for at least 10 minutes at the start of the recipe, then proceed with garlic, beans, kale, etc., as noted.  Just as yummy!
Ingredients:
2 medium Delicata squash
Salt and fresh ground pepper
Olive oil
2-3 cloves of garlic, minced
10 oz white beans, cooked (can use canned, too)
1 bunch kale, de-stemmed, and torn into chunks
1 Tbsp sage leaves, minced
4 Tbsp breadcrumbs
¼ cup Parmesan cheese
Procedure:
Preheat oven to 350; cut the squash in half lengthwise, scoop out the seeds. Brush oil over the insides of the squash and season with salt and pepper. Bake in the oven until just tender, making sure squash are not so soft that they will fall apart, about 30 minutes.
In a large sauté pan, heat oil over medium heat.  Add garlic and cook for 1 minute. Turn the heat up and add the kale, stirring constantly for about 3 minutes. Turn the heat back down to medium and add beans and sage.  Season with salt and pepper and set aside until the squash is done.
Remove squash from oven; fill with kale and bean mixture. Mix the Parmesan and bread crumbs together and top the stuffed squash. Bake for another 10 minutes, or until the Parmesan is melted and the stuffing is heated through.