Shrimp and Avocado Salad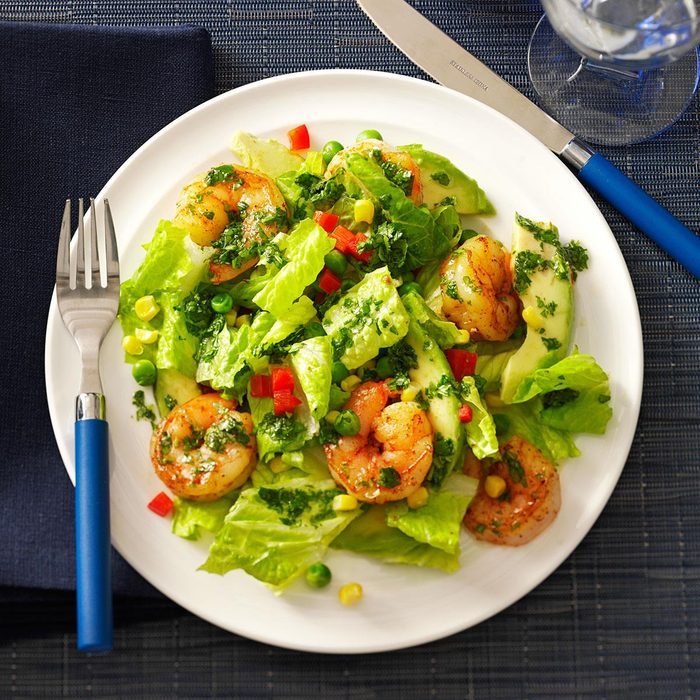 Found on Taste of Home, this gorgeous shrimp and avocado salad has such authentic flavor, you'll think you're sitting at a beachside cantina in Acapulco!  Serves 4.
Ingredients:
1 pound uncooked large shrimp, peeled and deveined
1 small garlic clove, minced
½ teaspoon chili powder
¼ teaspoon salt
¼ teaspoon ground cumin
2 teaspoons olive oil
5 cups romaine
1 cup fresh or frozen corn, thawed
1 cup frozen peas, thawed
½ cup chopped sweet red pepper
1 medium ripe avocado, peeled and thinly sliced
Cilantro Vinaigrette:
7 Tablespoons olive oil
¼ cup minced fresh cilantro
¼ cup lime juice
1½ teaspoons sugar
1 small garlic clove, minced
½ teaspoon salt
¼ teaspoon pepper
Procedure:
In a large skillet, cook the shrimp, garlic, chili powder, salt and cumin in oil over medium heat for 3-4 minutes or until shrimp turn pink; set aside.
In a large bowl, combine the romaine, corn, peas and red pepper; divide among 4 serving plates. Top each with shrimp and avocado. In a small bowl, whisk the vinaigrette ingredients; drizzle over salads.