Strawberry Spinach Salad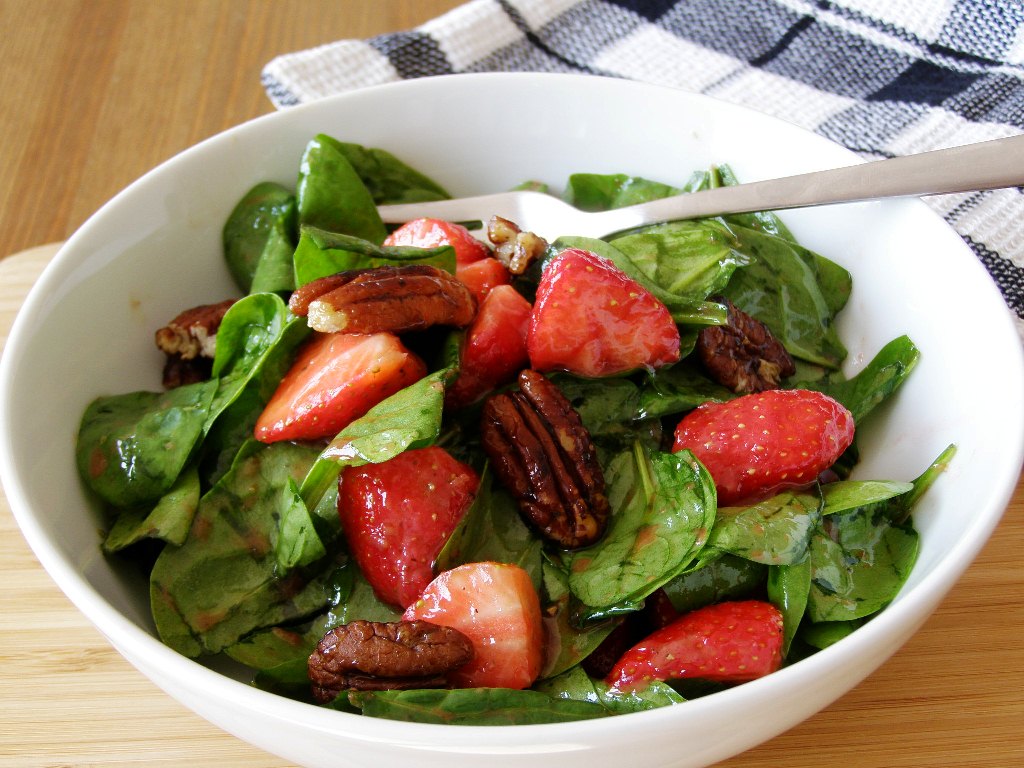 Found on the culinaryhill.com food blog, this strawberry spinach salad recipe is a great summer dish. This recipe includes pecans, but you could substitute other nuts, like almonds, walnuts, or sunflower seeds. You can bring out more flavor by toasting the nuts in a dry or buttered skillet.
Ingredients:
1 cup roasted pecans (or other nut)
2 Tbsp butter (optional, skip for vegan preparation)
12 oz baby spinach
16 oz strawberries quartered or sliced
Procedure:
1. (optional)  Heat a small skillet over medium-low heat. If using butter, add to the skillet. Add the pecans and toast until fragrant, about 10 to 15 minutes. Stir often to prevent scorching.
2. Combine spinach mix, strawberries, and pecans in a large bowl. Add salad dressing and toss until evenly coated.
Try it with one of these two dressings!
To make Poppy Seed Dressing, whisk together:
½ cup vegetable oil or light olive oil
¼ cup red wine vinegar
¼ cup sugar
1 tsp poppy seeds
1 tsp dried mustard
1 tsp salt
To make Easiest Balsamic Vinaigrette, whisk together:
½ cup olive oil
¼ cup balsamic vinegar
4 tsp dijon mustard
Salt to taste