Wheatberry Salad with Grilled Summer Vegetables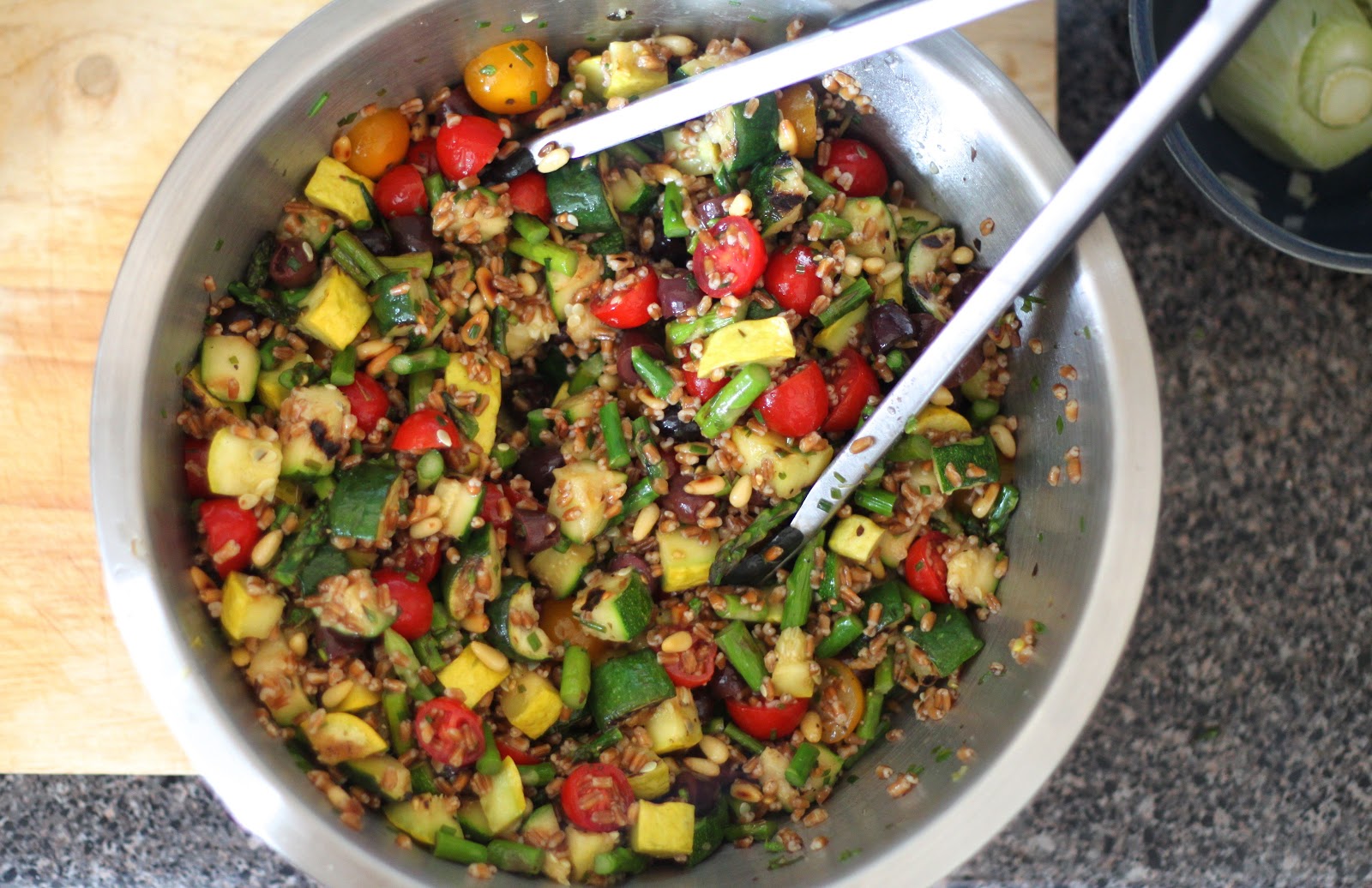 Whether you are hosting a 4th of July party, or just like grilled vegetables, this recipe from the Jenessa's Dinners blog has you covered.  You can even prepare the wheatberries the night before to save time.  This recipe serves 5-6.
Ingredients:
1 cup wheatberries
2 zucchini
2 squash
1 bunch of asparagus
2 cups cherry tomatoes, halved
1 cup kalamata olives, halved
¼ cup toasted pine nuts
¼ cup chives, finely chopped
2 Tbsp olive oil
2 Tbsp lemon juice
1 Tbsp balsamic vinegar
salt and pepper to taste
Procedure:
Cook the wheatberries in a small pot of boiling water.  They cook in about 10 minutes, but drain them whenever they feel al dente and spread them on parchment paper to cool.  Heat a grill pan (or your grill) over medium-high heat.
Cut the squash and zucchini into ¾ inch slices and toss in 2 Tbsp olive oil, salt, and pepper.   Grill on each side until you get some good grill marks.  Set aside to cool.
Trim off the ends of your asparagus and toss in the same bowl as the zucchini to pick up the remaining oil.  Grill and set aside to cool.  Once cool enough, chill the vegetables further in the refrigerator.
Toss the kalamata olives, pine nuts, chives, balsamic, lemon juice, salt and pepper with your wheatberries.  Set aside to marinate while you dice the grilled vegetables.
Roughly chop the zucchini, squash, and asparagus (about ½ inch pieces) and return to the same bowl to use those good juices released during grilling.
Just before serving, combine the grilled vegetables, wheatberry mix, and tomatoes.  Add any additional oil, vinegar, lemon juice, salt, or pepper to taste.